B-24 Best Web "Site PATCH"
Click to use the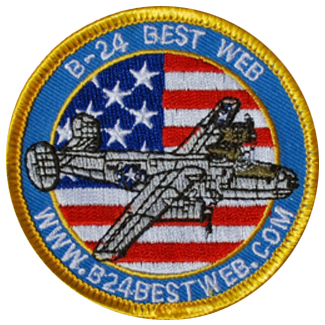 Snail Mail "Order Form"
-or- (To use PayPal See Below)
---
We Thank-You for Helping Support This CAUSE!!
"Patch Holders" and/or "Donations" (of $5.00 or more)
also have access to the "Data List"...
FREE S&H Anywhere in the World!!
Note: All orders are sent the Following "Monday or Thursday" (after processing)


ONE "Patch" for $8.00

TWO "Patches" for $7.00 (ea)
$14.00 Total

THREE "Patches" for $6.00 (ea)
$18.00 Total

FIVE "Patches" for $5.00 (ea)
$25.00 Total

and/or... If We have assisted in any way!!
please Consider a Donation...
(Much Appreciated!!)

Show Your Support... and/or Surprise Someone with a GIFT!
(7 color patches are not cheap!!)
Help support this cause (and Web Site!) by wearing and displaying this "High Quality" insignia...
Includes "Iron On" durable "Barking" (uhhh... I mean "Backing"!!) that attaches to...
Caps (not included)
Pets ... "look out, Libby!!" (what do "YOU" think?),
Jackets (not included) or What Have Ya?!

Send e-mail or pics to B-24 Best Web Master along with your questions or comments about this web site.
Copyright © 1997 B-24 Best Web. Published on Veterans Day 11/11/97. Last modified: January 01, 2019