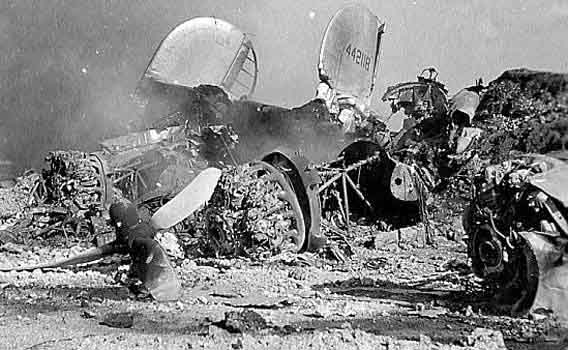 | | | | | | | | | | | | | | | | | |
| --- | --- | --- | --- | --- | --- | --- | --- | --- | --- | --- | --- | --- | --- | --- | --- | --- |
| NAME | TP | - | M# | SER | - | BLK | - | MF | SERIAL # | AF | BG | BS | SC | RCL/# | V#-P | PHOTO CREDITS |
| "118" | B | - | 24 | M | - | 15 | - | CO | 44-42118 | 7 | 494 | | ~ | ~ | 02-1 | N/A |
Contributor - Donn Cuson
Info Contributor - Robert Livingstone
The complete squadron of 12 aircraft from the 308th BG / 373rd BS were transferred to 494th BG on Okinawa 21 Jul 45.
Info Contributor - James A. Leddy
The 494th BG history book contains two entries regarding this a/c...
"B-24 M #44-42118 (373rd Bomb Squadron) also aborted a take off before leaving the ground and skidded tail first into one of the protective embankments. The pilot was Lt. JOHN A. WILSON. He and all aboard the plane have been reported as survivors. This happened on 13 August 1945 at Yontan. BYRON L. CANADAY recalls that the squadron records were on that plane.....at least some of them were. Why we don't know. But some of the 373rd planes and crews had been ordered to fly south to make more room on Okinawa for the B-29s expected from the Mainland OTUs to fly in combat with General DOOLITTLE's 8th Air Force (Very Heavy)."
"No airplanes were gained during August, although three airplanes were lost to operational causes. On 14 August, B-24M 44-42118, (373rd Bomb Squadron) crashed on takeoff resulting only in slight injuries to personnel, but destruction to the airplane."
Send e-mail or pics to B-24 Best Web Master along with your questions or comments about this web site.
Copyright © 1997 B-24 Best Web. Published on Veterans Day 11/11/97. Last modified: 27-Mar-2021