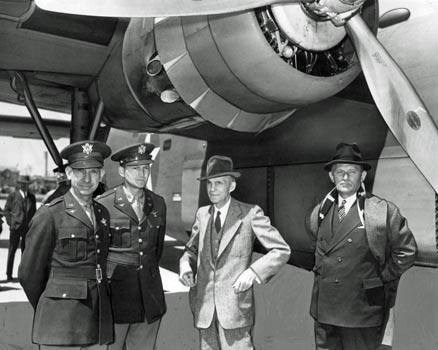 | | | | | | | | | | | | | | | | | |
| --- | --- | --- | --- | --- | --- | --- | --- | --- | --- | --- | --- | --- | --- | --- | --- | --- |
| NAME | TP | - | M# | SER | - | BLK | - | MF | SERIAL # | AF | BG | BS | SC | RCL/# | V#-P | PHOTO CREDITS |
| "702" | YB | - | 24 | - | - | - | - | - | 40-702 | ~ | ~ | ~ | ~ | ~ | 00-5 | N/A |
Starboard (Right) Side
Contributor - Brendan Wood
At Wright Field (L-R): Col. K. B. Wolfe, Maj. L. F. Harman, Henry Ford, C. E. Sorenson
Info Contributor - Al Blue
The sole YB-24, flown to Willow Run by Major L.F. Harmon (who on 17 February 1940 was the first Army pilot to fly the XB-24) to give Ford and Sorenson a close look at what they would be building.
The Army ordered 7 YB-24s (40-696 - 40-702) but before they were delivered to the AAF the first six were sold to the British as LB-30Bs (AM258 - AM263) and only the last of the 7 was delivered to the AAF as the one-and-only YB-24, serial 40-702. The other six serials were then applied to the first six AAF B-24Ds.
Send e-mail or pics to B-24 Best Web Master along with your questions or comments about this web site.
Copyright © 1997 B-24 Best Web. Published on Veterans Day 11/11/97. Last modified: 27-Mar-2021