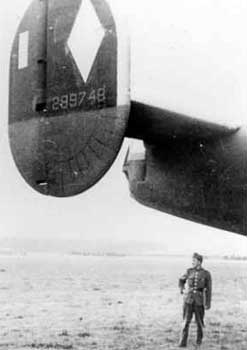 NAME
TP
-
M#
SER
-
BLK
-
MF

SERIAL #

AF

BG

BS

SC
RCL/#
V#-P

PHOTO CREDITS

"748"

B

-

24

J

-

15

-

CF
42-99748

15

455
740
~
7
00-

5

N/A
"Tail Shot" - Interned 12 Sep 44 Dübendorf, SWI - MACR 8352 Pg1 / Pg2 - Pilot Richard A. Huber
Contributor - Georges "Gino" Künzle
Landed at 13.40 Hrs (Swiss Time) in Dübendorf/ZH, Switzerland with both #1 and #2 engines feathered. Crew:
Pilot - HUBER Richard A. 2nd Lt.
Co-Pilot - CRAWFORD Milton N. 2nd Lt.
Navigator - DIAS Ronald A. 2nd Lt.
Bombardier - WARD John N. 1st Lt.
Engineer - LAVIN Thomas J. S/Sgt.
Radio Operator - BIELINSKI Walter R. S/Sgt.
Gunner - VAUGHN Winston E. S/Sgt.
Gunner - THURSBY George E. Sgt.
Gunner - SCHULTZ Lawrence J. Sgt.
Gunner - ECKLES Sylvester (nmi) Sgt.
Photographer - CARRAHER Robert P. Sgt.


Send e-mail or pics to B-24 Best Web Master along with your questions or comments about this web site.
Copyright © 1997 B-24 Best Web. Published on Veterans Day 11/11/97. Last modified: 27-Mar-2021