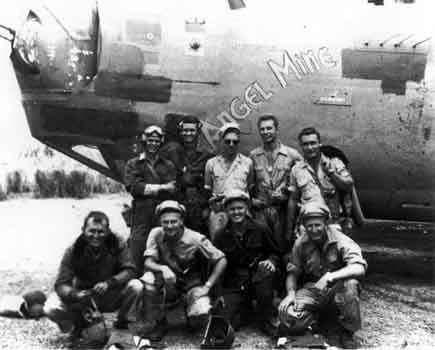 | | | | | | | | | | | | | | | | | |
| --- | --- | --- | --- | --- | --- | --- | --- | --- | --- | --- | --- | --- | --- | --- | --- | --- |
| NAME | TP | - | M# | SER | - | BLK | - | MF | SERIAL # | AF | BG | BS | SC | RCL/# | V#-P | PHOTO CREDITS |
| ANGEL MINE | B | - | 24 | D1 | - | 130 | - | CO | 42-41080 | 5 | 43 | 403 | ~ | ~ | 00-1 | KEITH M. BAKER |
Contributor - Tracie Seiser
From my husband's (Matt Seiser) Grandfather, Keith M. Baker (Nose Gunner - Standing far left). "Taken at Nadzab, New Guinea. Our first time out, we flew with some R.A.A.F. guys to bomb Weewak, New Guinea. We flew a Brand New B-24M overseas but had to turn it in for this old D-Model. Our new airplane #1838, survived the war and was turned into a salvage yard in 1946!" Crew:
Keith M. Baker - Nose Gunner
Eugene "Judy" Garland - Top Turret Gunner
Garvel K. "Goss" Gossage - Radio Operator
Lawrence "Larry" Bergeron - Armorer/Gunner
Joe "Mac" McLarry - Engineer
Chester "Babs" Babiarz - Tail Gunner
Wallace "Wally" Ketouch - Co-Pilot
Milton D. Brown - Bombardier
Marvin E. Gardner - Pilot
Harry Bondouis - Navigator
Info Contributor - Theodore J. Williams
Crew shown are in the CCRTC (Combat Crew Replacement and Training Center) at Nadzab, New Guinea, before being sent to the 5th AF / 380th BG / 530th BS.
Send e-mail or pics to B-24 Best Web Master along with your questions or comments about this web site.
Copyright © 1997 B-24 Best Web. Published on Veterans Day 11/11/97. Last modified: August 13, 2009