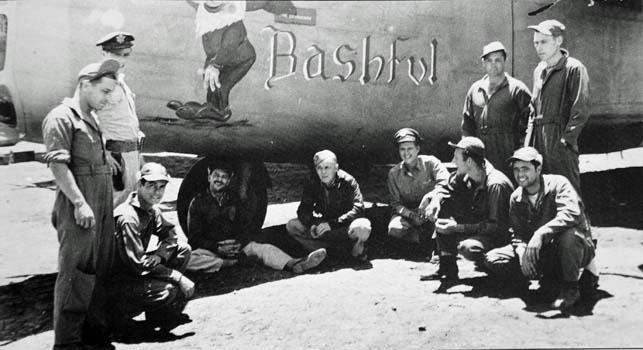 NAME
TP
-
M#
SER
-
BLK
-
MF

SERIAL #

AF

BG

BS

SC
RCL/#
V#-P

PHOTO CREDITS

BASHFUL

B

-

24

D

-

-

-

CO

41-11776

9

98

343

~

O
01-

3

98TH BG ASSOC
Renamed from JERSEY JERKS - Walt Disney Character - "Snow White Theme"
Lost on Operation TIDAL WAVE, 1 Aug 43, Ploesti Romania - MACR 171 - Pilot John L. McGrew
Featured in "Force for Freedom"
Info Contributor - Bill Whitney
This aircraft originally carried the names JERSEY JACKASS (Starboard) and JERSEY JERKS (Port). JERSEY JERKS was replaced by BASHFUL in the spring of 1943 in compliance with a "Snow White Squadron" directive; JERSEY JACKASS was retained on the right side. The aircraft was lost on the low level Ploesti mission 1 Aug 43, flown by the John McGraw crew who were on loan to the 98th BG from the 389th BG or (2) enemy paratroops, or (3) by American G.I.s who washed the plane in gasoline and then accidentally set it on fire, depending of which source you want to believe.
Info Contributor - Charles Brummel (Nephew of Artist - Amos Nicholson)
My uncle has always been proud of the paintings he did on these planes, and wishes he had signed them.
Send e-mail or pics to B-24 Best Web Master along with your questions or comments about this web site.
Copyright © 1997 B-24 Best Web. Published on Veterans Day 11/11/97. Last modified: 27-Mar-2021