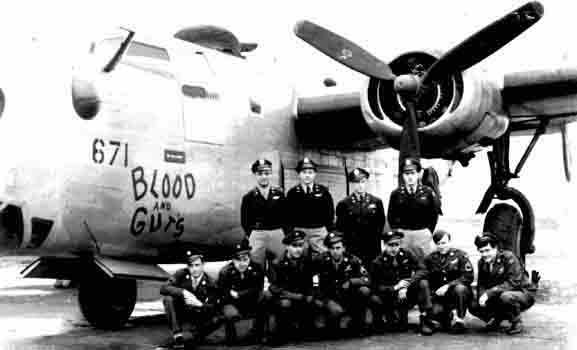 | | | | | | | | | | | | | | | | | |
| --- | --- | --- | --- | --- | --- | --- | --- | --- | --- | --- | --- | --- | --- | --- | --- | --- |
| NAME | TP | - | M# | SER | - | BLK | - | MF | SERIAL # | AF | BG | BS | SC | RCL/# | V#-P | PHOTO CREDITS |
| BLOOD AND GUTS | B | - | 24 | HSH | - | 25 | - | DT | 42-51149 | 8 | 453 | 733 | F8 | U+ | 00-2 | DUDLEY D. JENKINS |
DT Line #671 - Transferred from 389/564 (YO C) to 453/733 (F8 U+)
Lost 17 Feb 45, GER - MACR 16087 - Pilot Lawrence M. Duncan
Contributor - Tom Brittan
The late Paul R. Stovey (Co-Pilot), explained that the plane received its name because it hit and killed hundreds of birds on a test flight take-off.
Flew at least 8 missions with 389th BG and 35 missions with 453rd BG, last 14 after removal of H2X radar.
On 17 Feb 45, 1st Lt. Lawrence Duncan and his crew were forced to ditch the airplane in the North Sea, 9 miles N of Cromer, after severe icing while returning from a recalled mission to Magdeburg, Germany. Only 4 of the crew of 10 were rescued.
Standing (L-R)
Lt. George J. Forman - Navigator
Lt. Kalaman L. Heider - Navigator
Lt. Paul R. Stovey - Co-Pilot
Capt. Wendell H. Whitehouse - Pilot




Kneeling (L-R)
T/Sgt. Tommy Jones - Engineer
S/Sgt. Robert E. Dowse - Gunner
S/Sgt. Bernard C. Harrer - Gunner
S/Sgt. G.C. Duckworth - Gunner
S/Sgt. John L. DeLong - Gunner
T/Sgt. Dudley D. Jenkins - Radio Operator
Unknown S/Sgt.
Send e-mail or pics to B-24 Best Web Master along with your questions or comments about this web site.
Copyright © 1997 B-24 Best Web. Published on Veterans Day 11/11/97. Last modified: 27-Mar-2021