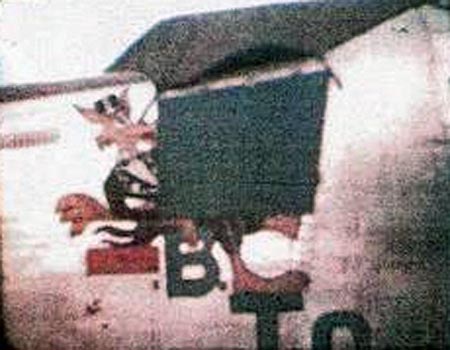 NAME
TP
-
M#
SER
-
BLK
-
MF

SERIAL #

AF

BG

BS

SC
RCL/#
V#-P

PHOTO CREDITS

B.T.O.

B

-

24

J

-

145

-

CO

44-40072

8

466
785
2U
A+
01-

5

N/A
Port (Left) Side - Color Image - "Big Time Operator"
Info Contributor - Wally Forman
Dick Bastien was the Co-Pilot. The nose art was already on the plane when they picked it up. When the plane passed to the 489th BG, they liked the nose art but wanted to personalize it, so they painted spats on the wolf's bare feet. Then armor plate covered up part of the nose art. Someone repainted over the armor plate, similar to, but not identical, to the original. It must have been intentional that someone revised the cane the wolf was holding into a thin, smoking cigar.
Info Contributor - Tom Brittan
Assignments:
8 492 857 (9H -D) - Original aircraft - 29 missions, transferred after 10 Aug 44 to
8 489 846 (8R +B) - Unknown number of missions Aug - Nov 44, transferred to
8 453 734 (E8 A-) - First trace 11 Dec 44 - 30 missions, transferred after 11 Apr 45 to
8 466 785 (2U A+) - No combat missions, RZI (# 27 on Operation "Home Run")
Send e-mail or pics to B-24 Best Web Master along with your questions or comments about this web site.
Copyright © 1997 B-24 Best Web. Published on Veterans Day 11/11/97. Last modified: 15-May-2023