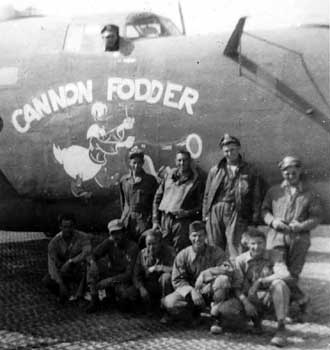 | | | | | | | | | | | | | | | | | |
| --- | --- | --- | --- | --- | --- | --- | --- | --- | --- | --- | --- | --- | --- | --- | --- | --- |
| NAME | TP | - | M# | SER | - | BLK | - | MF | SERIAL # | AF | BG | BS | SC | RCL/# | V#-P | PHOTO CREDITS |
| CANNON FODDER | B | - | 24 | G | - | 5 | - | NT | 42-78102 | 15 | 451 | 726 | ~ | C/45 | 00-4 | HOWARD S. HOLTON |
Starboard (Right) Side - Walt Disney Character "Donald Duck" - #1 Then #2 Then #45
Contributor - Sheree' Karp
My Grandfather, Howard S. Holton (Ball Turret Gunner) is kneeling far right. Crew:
Wesley Lindley - Pilot
Richard Varnum - Co-Pilot
Louis Sugarman - Bombardier
Robert Pfielsticker - Navigator
Marty Aschenbrenner - Top Gunner
Howard S. Holton - Ball Turret Gunner
Wilbur Kasper - Waist Gunner/Flight Engineer
Frank Allen - Nose Gunner
Carlos Spencer - Tail Gunner
Lloyd Nelson - Waist Gunner/Radio Operator
Info Contributor - Mike Pollino
Shown with my Grandfather, Marty Aschenbrenner (Top Turret Gunner), kneeling far left.
Info Contributor - Daniel L. Stockton
Definition of CANNON FODDER: Soldiers, sailors, or other military personnel regarded as likely to be killed or wounded in combat.
Send e-mail or pics to B-24 Best Web Master along with your questions or comments about this web site.
Copyright © 1997 B-24 Best Web. Published on Veterans Day 11/11/97. Last modified: 27-Mar-2021