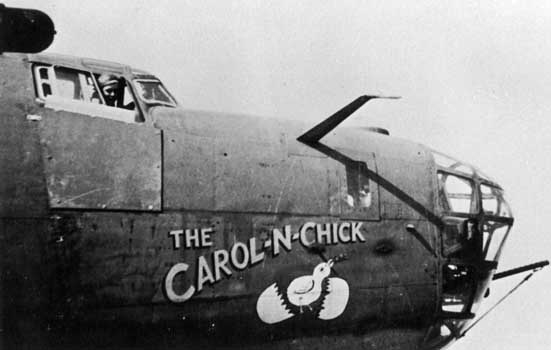 | | | | | | | | | | | | | | | | | |
| --- | --- | --- | --- | --- | --- | --- | --- | --- | --- | --- | --- | --- | --- | --- | --- | --- |
| NAME | TP | - | M# | SER | - | BLK | - | MF | SERIAL # | AF | BG | BS | SC | RCL/# | V#-P | PHOTO CREDITS |
| CAROL-N-CHICK, The | B | - | 24 | D | - | 20 | - | CF | 42-63981 | 8 | 448 | 712 | CT | C | 00-1 | PAT EVERSON |
Starboard (Right) Side - Became a Lead Formation Assembly Ship (AKA "STRIPE-PED APE")
Contributor - Tom Brittan
On arrival in England as an 8 448 714 aircraft at the beginning of Dec 43, it was transferred temporarily to 8 93 329 and given RCL: O. After at least 7 missions, it was returned to 448th BG before 29 Dec 43 and assigned to 712th BS with RCL C. Last combat mission: 29 Apr 44. It was first used as an assembly ship in Jun or Jul 44 and was salvaged war weary at Seething on 13 or 14 Feb 45.
Info Contributor - Robert Livingstone
Named after Pilot Lt Stanley H. Johnson's girlfriend and Bombardier Lt G. W. Purcell's wife.
Send e-mail or pics to B-24 Best Web Master along with your questions or comments about this web site.
Copyright © 1997 B-24 Best Web. Published on Veterans Day 11/11/97. Last modified: 27-Mar-2021