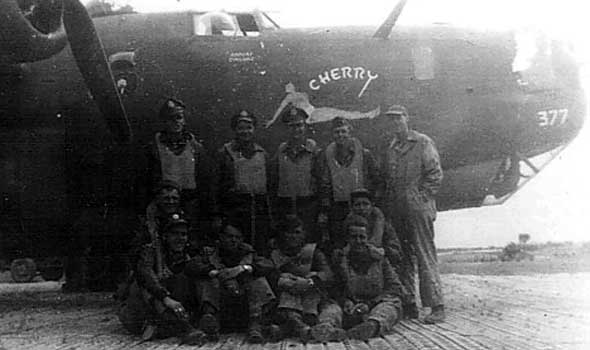 | | | | | | | | | | | | | | | | | |
| --- | --- | --- | --- | --- | --- | --- | --- | --- | --- | --- | --- | --- | --- | --- | --- | --- |
| NAME | TP | - | M# | SER | - | BLK | - | MF | SERIAL # | AF | BG | BS | SC | RCL/# | V#-P | PHOTO CREDITS |
| CHERRY | B | - | 24 | H | - | 5 | - | CF | 42-64441 | 15 | 464 | 778 | ~ | 377 | 01-1 | DALE N. MORLAN |
Renamed from BIGASS BIRD (448th BG) - Lost 10 May 44, GER - MACR 4804 - Pilot Lawrence J. Wygal
Contributor - Brett D. Criqui
Shown with my Grandfather, Dale N. Morlan (Pilot - Standing far left), after the 464th BG arrived at it's temporary base in Gioria, Italy 21 Apr 44. CHERRY was transferred from the 448th BG / 713th BS in early Apr 44. Lost in action 10 May 44 with another crew, just days after this photo was taken.
Standing (L-R)
1Lt Dale N. Morlan - Pilot
1Lt Marvin M. Sherman - Co-Pilot
1Lt Frederick A. Klingelberger - Navigator
1Lt Charles R. Koons, Jr. - Bombardier
SSgt Marvin E. Langsteiner - Gunner


Kneeling (L-R)
SSgt Raybon H. Purcell - Asst Eng
TSgt Thomas J. Johnson - Engineer
TSgt Robert M. Day - Radio Operator
?Sgt ?? - Gunner
SSgt Harold L. Likens - Gunner
SSgt Paul E. Gonzales - Gunner
Info Contributor - Tom Brittan
Originally assigned to 448th BG (Pilot: 2/Lt Thomas R. Apple) on 6 Nov 43 as an original aircraft to fly away and named BIGASS BIRD but before departure from the USA it was found to have a warped wing and was not flown overseas by 448th BG. It was subsequently assigned to 464th BG.
Send e-mail or pics to B-24 Best Web Master along with your questions or comments about this web site.
Copyright © 1997 B-24 Best Web. Published on Veterans Day 11/11/97. Last modified: 27-Mar-2021