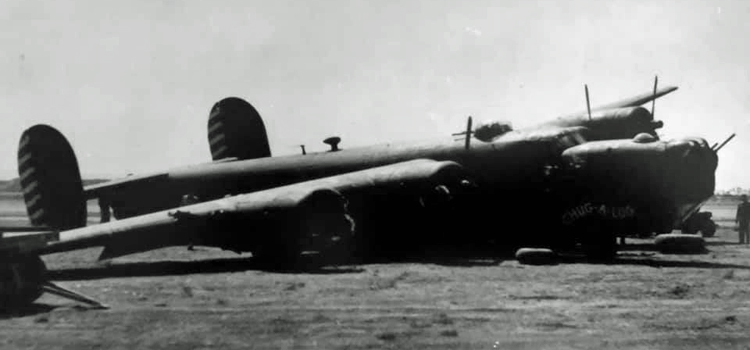 NAME
TP
-
M#
SER
-
BLK
-
MF

SERIAL #

AF

BG

BS

SC
RCL/#
V#-P

PHOTO CREDITS

CHUG-A-LUG JUNIOR

B

-

24

J

-

30

-

CO
42-73310
14
308
425
~
~
00-

3

N/A
Starboard (Right) Side - Featured in "Three Crawford Brothers"
Info Contributor - Jack Gross
Crash-landed upon its return to base (Kunming or Liuchow?) from Group Mission 95 on 23 Apr 44.
One of seven B-24s from the 374th BS & 425th BS that staged at Liuchow for the mission to bomb shipping at Cap St. Jacques, near Saigon (now Ho Chi Minh City), French Indo China. The mission was one of the most successful missions of the war, sinking six large ships and a small Japanese naval vessel, totaling 40,000 tons. The raid elicited a congratulatory telegram to Gen. Chennault from Admiral Nimitz.
CHUG-A-LUG JUNIOR was severely damaged during its attack. Its hydraulic system was shot out, and one crewman - Radio Operator T/Sgt. Anastacio Contreras - was seriously wounded by an explosive round. When the airplane approached the field, they lowered the landing gear. The left main gear went down and locked, but the right side would not lock. The pilot could not retract the locked left gear to attempt a belly landing, and was further hampered by not having flaps. Considering their wounded man, they opted to bring the ship in rather than gain altitude and bail out. The report says "two tires were blown out (perhaps the nose and left main tires from the high speed approach) and two propellers struck the ground." The Pilot, Lt. Milton Werner, and Co-Pilot, Lt. Col. Jack Averill, were commended for "bringing it in without further casualties."
Send e-mail or pics to B-24 Best Web Master along with your questions or comments about this web site.
Copyright © 1997 B-24 Best Web. Published on Veterans Day 11/11/97. Last modified: 19-Aug-2021