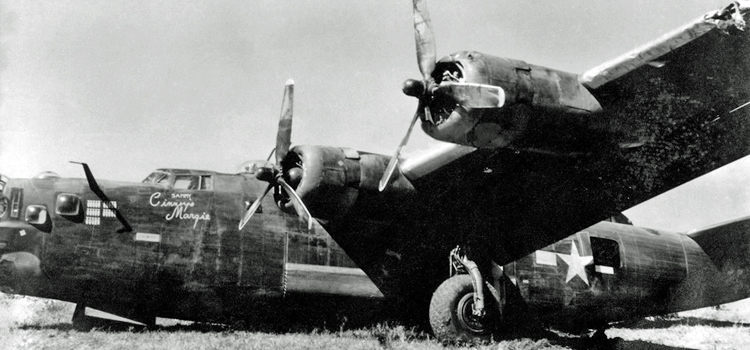 | | | | | | | | | | | | | | | | | |
| --- | --- | --- | --- | --- | --- | --- | --- | --- | --- | --- | --- | --- | --- | --- | --- | --- |
| NAME | TP | - | M# | SER | - | BLK | - | MF | SERIAL # | AF | BG | BS | SC | RCL/# | V#-P | PHOTO CREDITS |
| CINNSY'S MARGIE | B | - | 24 | H | - | 5 | - | FO | 42-7723 | 15 | 449 | 717 | ~ | 43 | 00-3 | N/A |
Port (Left) Side
Info Contributor - Mark Coffee
Original cadre ship delivered to Bruning 20 Oct 43 and assigned to Samuelson's crew. Original combat number was #35, changed to #43. Possibly carried #46 in April-early May prior to #43. Shown with the 15th AF lead aircraft nose mod done with the vertical window behind the turret and the two domes. Reported as crash-landing 12 Aug 44 at Tarquinia and salvaged.
Contributor - Georges "Gino" Künzle
There was an early, but abortive program to modify 15th AF lead ships with these extra windows. Apparently, however, this plan was short-lived and dropped when the first radar-equipped aircraft became available.
However, the need to improve forward vision on nose turret-equipped B-24s was still desperately sought after and the 15th AF resorted to all sorts of "nasal surgery" to achieve this goal. I personally think that only the narrow slit vertical windows immediately aft of nose turret fairing are part of the original plan; the other bulbous blister nose windows apparently continued to be installed long after the scheme had been dropped; the 15th AF guys must have insisted so much about this need that mods for the same purpose were later effected on production lines or mod centers back in the U.S.
Ford seems to have paid greater attention to this requirement by enlarging the navigator's window, first widening it to a square with rounded corners, and then a step further by introducing the long bay-type nav. windows in their late L-models, retaining them in their M-series. Many late Ford L & M a/c additionally had a small bulbous window installed under the nav. windows, in a style clearly inspired by the "made in Italy" nose windows. The B-24N, again Ford only, finally solved the problem in redesigning the entire nose area. In comparison, the efforts made by the other manufacturers were of a much more conservative nature.
Send e-mail or pics to B-24 Best Web Master along with your questions or comments about this web site.
Copyright © 1997 B-24 Best Web. Published on Veterans Day 11/11/97. Last modified: 27-Mar-2021