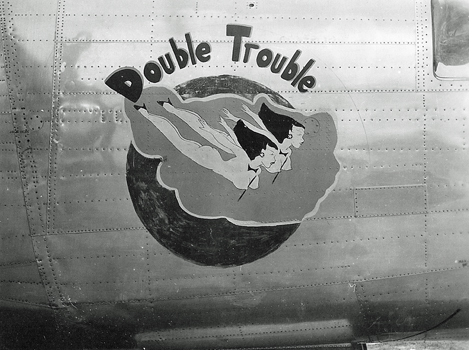 NAME
TP
-
M#
SER
-
BLK
-
MF

SERIAL #

AF

BG

BS

SC
RCL/#
V#-P

PHOTO CREDITS

DOUBLE TROUBLE

B

-

24

J

-

190

-

CO
44-40989
10
7
493
~
55
01-

3

DARRYL MONTEITH
2 Prop Version - Dragster with DOUBLE TROUBLE Nose Art

Contributor - James Stapp
My Grandfather, Captain Darryl Monteith, was the Maintenance Officer when he was in Burma in 1944.
Research Team Comments: The crew was formed in March 1944 at Hammer Field, Fresno California, and took B-24 training at Muros Field. They were assigned to the China-Burma-India (CBI) Theater in India. This is the aircraft that bombed the bridges on the River Kwai. One of only ten 7th BG B-24s equipped with AZON (Azimuth Only) radio-controlled bombs.
Send e-mail or pics to B-24 Best Web Master along with your questions or comments about this web site.
Copyright © 1997 B-24 Best Web. Published on Veterans Day 11/11/97. Last modified: 27-Mar-2021