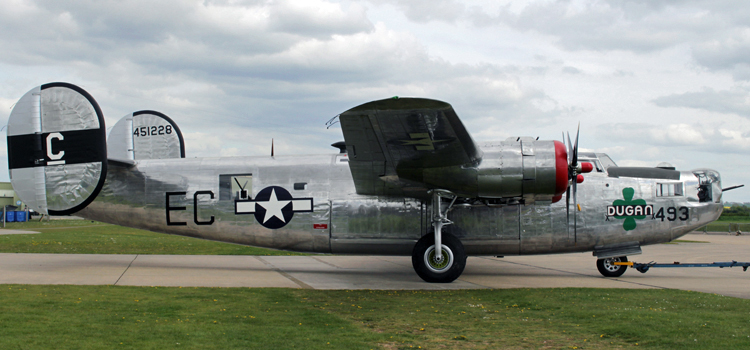 NAME
TP
-
M#
SER
-
BLK
-
MF

SERIAL #

AF

BG

BS

SC
RCL/#
V#-P

PHOTO CREDITS

DUGAN

B

-

24

M

-

20

-

FO

44-51228

~

~

~

~

493

R0-

1

N/A
Starboard (Right) Side - Color Image - Restoration/Representation - American Air Museum, Duxford UK
Info Contributor - Tom Brittan
The "Look-A-Like DUGAN"! Note: The "Original DUGAN" (44-50493 B-24M-5 FO) was in 8 392 578 as EC C.
The Imperial War Museum people have done a great job in restoring the airframe of B-24M-20 FO 44-51228 (it still shows the 451228 tail number), which had suffered a lot from the elements since its last assignment to Aero Icing Research Laboratory (AIRL) as an EZB-24. It lacks the bombardier's aiming and viewing windows and a few details may not be 100% accurate but, overall, it's fine.
Several years had elapsed since my previous visit to Duxford when the 18,000 + B-24s and derivatives were represented by a mere B-24E nose section. There is now a better balance with a complete B-24 to accompany the B-17. As you can imagine, both are dwarfed by the B-52.
Send e-mail or pics to B-24 Best Web Master along with your questions or comments about this web site.
Copyright © 1997 B-24 Best Web. Published on Veterans Day 11/11/97. Last modified: 15-Jun-2022