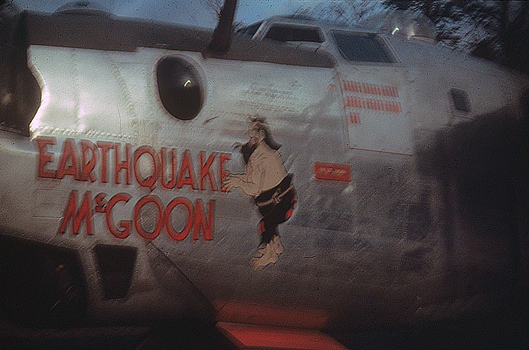 NAME
TP
-
M#
SER
-
BLK
-
MF

SERIAL #

AF

BG

BS

SC
RCL/#
V#-P

PHOTO CREDITS

EARTHQUAKE MCGOON

B

-

24

J

-

401

-

CF

42-50452

8

389

566

RR

O+
02-

3

N/A
Color Image - Character from "Li'l Abner Comics" (Creator - Al Capp)
Info Contributor - Chris Gregg
EARTHQUAKE MCGOON was lost in a mid-air collision 21 Nov 44 with another 389th BG aircraft 44-10513. The pilot of EARTHQUAKE MCGOON on this day was Lt. Alfred Brooks. Brooks was the only survivor from his aircraft. Two survived from aircraft 44-10513. Seventeen were killed in the collision and their names are are on a memorial at the Kirby Bedon church near where the collision occurred.
Info Contributor - Tom Brittan
The collision occurred during assembly, which was over Carleton Rode, a village sandwiched between Old Buckenham and Tibenham and more than 12 miles WSW of Kirby Bedon. I lived in Carleton Rode during WW II and have seen on several occasions the memorial plaque and more recent stained glass window in Carleton Rode church. A friend unearthed about half of a propeller blade still with its yellow tip and Hamilton Standard transfer label while plowing one of his fields in 1984.
Send e-mail or pics to B-24 Best Web Master along with your questions or comments about this web site.
Copyright © 1997 B-24 Best Web. Published on Veterans Day 11/11/97. Last modified: 27-Mar-2021