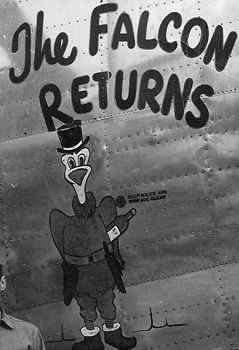 | | | | | | | | | | | | | | | | | |
| --- | --- | --- | --- | --- | --- | --- | --- | --- | --- | --- | --- | --- | --- | --- | --- | --- |
| NAME | TP | - | M# | SER | - | BLK | - | MF | SERIAL # | AF | BG | BS | SC | RCL/# | V#-P | PHOTO CREDITS |
| FALCON RETURNS, The | B | - | 24 | J | - | 70 | - | CF | 44-10620 | 8 | 389 | 564 | YO | G | 00-1 | N/A |
Lost 7 May 45, GER - MACR 16337 - Pilot George M. Saunderson
Contributor - Robert Livingstone
Info Contributor - Chris Gregg
My understanding is that 44-10620 was lost when it crashed into the Rhine on a "Trolley" sightseeing mission on May 7, 1945, including many ground crew members some of whom were members of the 406 Air Service Group. The aircraft may have hit wires spanning the river in the area or the bridge itself but that is uncertain. This listing on Find a Grave has it mostly right: https://www.findagrave.com/memorial/56303521
Crew of "The Falcon Returns":
2/Lt. George M. Saunderson Pilot MIA/KIA
2nd/Lt. Cornelius J. Atkins Co Pilot MIA/KIA
2nd/Lt. Stephen B. Curtis Navigator MIA/KIA
T/Sgt. Chester D. Conrad Radio Op. KIA
T/Sgt. John A. Kunkel MIA/KIA
T/Sgt. Gildo J. Uliana KIA
S/Sgt. Gordon H. Thomas KIA
S/Sgt. John J. Dunnings MIA/KIA
Sgt. Thomas B. Evans, Jr KIA
Sgt. William C. Riser MIA/KIA
Sgt. Raymond J. Ruth MIA/KIA
Sgt. Abe A. Becker KIA
Corp. William K. Emery KIA
Pfc. Alfred W. Odegard MIA/KIA

*832nd Squadron, 406th Air Service Group:
T/Sgt. Ronald F. Maier KIA
S/Sgt. Fredrick W. Selk KIA
S/Sgt. Stanley A. Andersen KIA
S/Sgt. Lilbern D. Daly KIA
S/Sgt. Elbert J. Ravenscraft KIA

The serial number on the page should be 44-10620. The author probably mixed up the serials as 42-100422 was lost on May 7, 1944. The tragic event with 44-10620 happened on May 7, 1945.

Something must have happened to the MACR 16337 as it is incredibly short and only seems to include the 406th ASG members. Or maybe the 389th BG didn't file a MACR? Or maybe there is more info in MACR 16630 mentioned in the Find a Grave list but it doesn't seem to be on Fold3.com.
Send e-mail or pics to B-24 Best Web Master along with your questions or comments about this web site.
Copyright © 1997 B-24 Best Web. Published on Veterans Day 11/11/97. Last modified: 27-Mar-2021