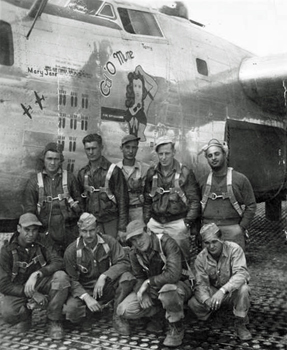 NAME
TP
-
M#
SER
-
BLK
-
MF

SERIAL #

AF

BG

BS

SC
RCL/#
V#-P

PHOTO CREDITS

GAL 'O MINE II

B

-

24

G

-

10

-

NT
42-78270

15

460
763
~
~
00-

2

EUGENE L. GOOD
Port (Left) Side
Contributor - Christine Myka
Shown with My Grandfather, Eugene L. Good (Nose Gunner, Standing Center). Pilot was Captain Jeremiah M. Nashner.
Info Contributor - Daniel L. Stockton
Note: 42-50909 (J-5-FO) was AKA "Gal-O-Mine", and not sure if name was ever painted on, thus the cross-out on MACR 15243 for "909". Need photographic proof!

Send e-mail or pics to B-24 Best Web Master along with your questions or comments about this web site.
Copyright © 1997 B-24 Best Web. Published on Veterans Day 11/11/97. Last modified: 27-Mar-2021