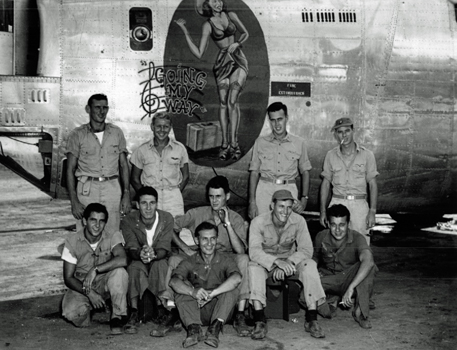 | | | | | | | | | | | | | | | | | |
| --- | --- | --- | --- | --- | --- | --- | --- | --- | --- | --- | --- | --- | --- | --- | --- | --- |
| NAME | TP | - | M# | SER | - | BLK | - | MF | SERIAL # | AF | BG | BS | SC | RCL/# | V#-P | PHOTO CREDITS |
| GOING MY WAY | B | - | 24 | J | - | 175 | - | CO | 44-40674 | 7 | 11 | 431 | ~ | ~ | 02-1 | BLAIR C. ROGERS |
Port (Left) Side - Nose Art Inspiration - GIL ELVGREN

"KNEEDING A LIFT"
Featured on Glover's Pepper Sauce

Contributor - Stephen B. Rogers
Shown with my Father, Blair C. Rogers (Bombardier), standing 2nd from right.
Info Contributor - Gerald 'Bud' Shaffer (Nose Gunner)
The nose art on this aircraft was based on the Bing Crosby song of the same name, which he dedicated. Piloted by Lt. Davidowski, the aircraft was heavily damaged during a mission which crash landed on Okinawa and declared beyond repair. She was then used for spare parts.
Info Contributor - Bob Thomas
Flew it's last mission 8 Aug 45. Over Japan, we were attacked by 2 fighters, coming out of the sun. The Bombardier was hit by a 20mm shell in the right arm. There was a fire in the bomb bay that was extinguished when the bombs were salvoed. There was extensive damage: hydraulics, elevator trim cables and nose gear trailing link was hit. Main landing gear was manually cranked down and chutes were tethered at the waist gun posts. Landed at Yontan airstrip successfully, braking the fuselage beyond repair. Ironically, due to wounded aboard, General McArthur was kept in the holding pattern while we were on the runway. He ordered the plane derricked off the runway so he could land.
(See pg 240 of Grey Geese Calling.)
Research Team Comments: Also served in 30th BG/819th BS
Send e-mail or pics to B-24 Best Web Master along with your questions or comments about this web site.
Copyright © 1997 B-24 Best Web. Published on Veterans Day 11/11/97. Last modified: 27-Mar-2021