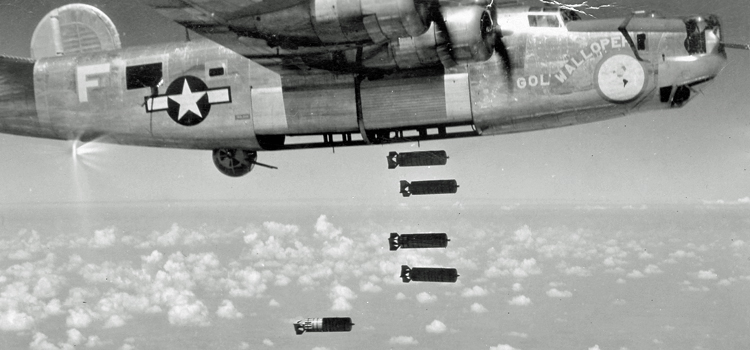 | | | | | | | | | | | | | | | | | |
| --- | --- | --- | --- | --- | --- | --- | --- | --- | --- | --- | --- | --- | --- | --- | --- | --- |
| NAME | TP | - | M# | SER | - | BLK | - | MF | SERIAL # | AF | BG | BS | SC | RCL/# | V#-P | PHOTO CREDITS |
| GOL' WALLOPER | B | - | 24 | H | - | 30 | - | CF | 42-50418 | 15 | 485 | 829 | ~ | F | 00-1 | THOMAS L. WHITE |
Starboard (Right) Side
Contributor - John Bertram
The photo was taken July 3, 1944 by my great-uncle-in-law T/Sgt Tom White, a Radio Op / Waist Gunner with the 485th BG (829 Sq), on a mission targeting a Marshalling Yard at Timisoara, Rumania.
It was Tom's fifth combat mission. We have the original print of the photo itself that Tom mailed home to his family in Kingston Ontario Canada, and which includes Tom's caption on the back describing the position of his plane relative to the rest of the formation.
Sadly, Tom and seven other crewmates were KIA in late September of '44, when their B-24J was shot down by flak after striking a marshalling yard at Salonika, in still-occupied northern Greece, on what for most of that crew would have been their final mission before qualifying to return home.
Info Contributor - James A. Leddy
GOL' WALLOPER, 15th AAF Consolidated Liberator named for the bait used by Provo, Utah's famed sportsman, Earl Smoot, was confined to bed by paralysis, at a 15th AAF base in Italy. The Liberator received its name when crew members heard S/Sgt Richard Clark of Provo tell of Smoot's success with this bait and the paralyzed man's request that a bomber be named for him.
Send e-mail or pics to B-24 Best Web Master along with your questions or comments about this web site.
Copyright © 1997 B-24 Best Web. Published on Veterans Day 11/11/97. Last modified: 27-Mar-2021