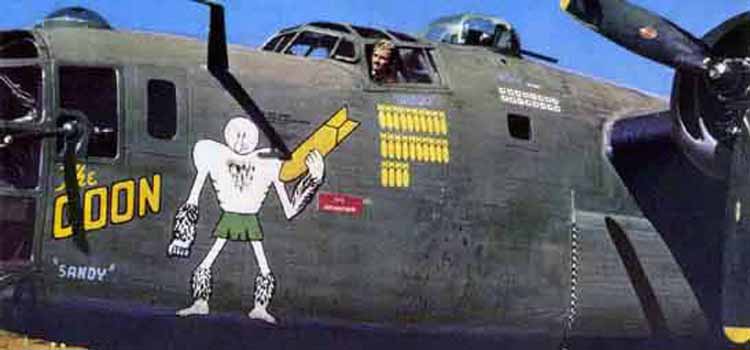 | | | | | | | | | | | | | | | | | |
| --- | --- | --- | --- | --- | --- | --- | --- | --- | --- | --- | --- | --- | --- | --- | --- | --- |
| NAME | TP | - | M# | SER | - | BLK | - | MF | SERIAL # | AF | BG | BS | SC | RCL/# | V#-P | PHOTO CREDITS |
| GOON, The | B | - | 24 | D | - | 20 | - | CO | 41-24183 | 14 | 308 | 374 | ~ | ~ | 00-2 | N/A |
Port (Left) Side - Color Image - Character from "Popeye Comics" (Creator - Elzie Segar) - Bisbee, Arizona WWII Memorial

Contributor - Jim Augustus
Shown with 1Lt Sam Skousen (Pilot).
Info Contributor - Jack Gross
In early December 1943, The GOON lost two engines returning from a night raid on the Kowloon docks (Hong Kong). To keep the aircraft aloft, the crew tossed out everything they could, and then bailed out over French Indochina. Sam Skousen (Pilot) was then able to fly the B-24 to safety. Arthur Benko (Top Turret Gunner) and Malcolm Sanders (Bombardier) were MIA, either drowned, or captured by the Japanese and executed. The rest of the crew returned safely to base.

Arthur Benko (Top Turret Gunner) shot down 16 (confirmed) Japanese fighters to his credit - the most of any bomber gunner in the USAAF. There was a post-war effort that he be awarded the Medal of Honor, as done with fighter pilots with similar enemy kill counts. However, in 2009, he was posthumously awarded the Silver Star.
Send e-mail or pics to B-24 Best Web Master along with your questions or comments about this web site.
Copyright © 1997 B-24 Best Web. Published on Veterans Day 11/11/97. Last modified: December 12, 2011