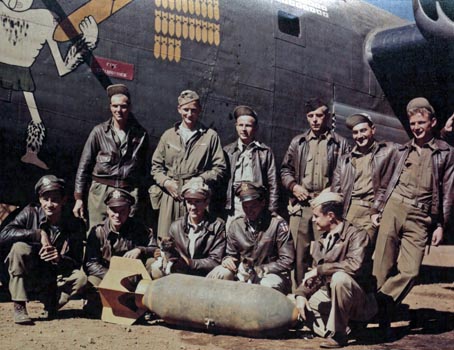 NAME
TP
-
M#
SER
-
BLK
-
MF

SERIAL #

AF

BG

BS

SC
RCL/#
V#-P

PHOTO CREDITS

GOON, The

B

-

24

D

-

20

-

CO

41-24183

14

308

374

~

~

00-

6

NARA
Port (Left) Side - Color Image - Character from "Popeye Comics" (Creator - Elzie Segar)
Lost 14 Nov 43, CHN - MACR 12413 - Pilot Samuel J. Skousen
Transferred to 1330th Air Transport Command (ATC)
Lost 1 Feb 45, IND - MACR 12030 - Pilot Delton D. Shilling
Bisbee, Arizona WWII Memorial

Arthur J. Benko (Top Turret Gunner)


From the CBI Roundup VOL. II NO. 4 REG NO. L5015 DELHI, FRIDAY OCTOBER 8, 1943
Info Contributor - Jack Gross
14 Nov 43 - The GOON lost two engines returning from a night raid on the Kowloon docks (Hong Kong). To keep the aircraft aloft, the crew tossed out everything they could, and then bailed out over French Indochina. Sam Skousen (Pilot) was then able to fly the B-24 to safety.
Arthur J. Benko (Top Turret Gunner) shot down 16 (confirmed) Japanese fighters to his credit - the most of any bomber gunner in the USAAF. There was a post-war effort that he be awarded the Medal of Honor, as done with fighter pilots with similar enemy kill counts. However, in 2009, he was posthumously awarded the Silver Star.
Info Contributor - Douglas Sheley
14 Nov 43 - While heading to target, the aircraft developed engine trouble severe enough to force most of the crew to bail out. Three of the crew stayed with the plane and managed to get it to the base at Kweilin, China. Five of the seven who bailed out were returned to duty and two were listed as MIA (later KIA).
Capt. Samuel J. Skousen - Pilot (stayed with plane, RTD)
1st Lt. Ralph E. Bowers, Jr. - Co-Pilot (bailed out, RTD)
1st Lt. Daniel J. Palmer - Navigator (bailed out, RTD)
1st Lt. Malcolm S. Sanders - Bombardier (bailed out, KIA)
T/Sgt. Archie L. Fleharty - Engineer/Gunner (stayed with plane, RTD)
T/Sgt. William J. Novak - Radio Operator (stayed with plane, RTD)
T/Sgt. Arthur J. Benko - Gunner/Asst. Engineer (bailed out, KIA)
S/Sgt. Casper J. Chirieleison - Gunner/Asst. Radio Operator (bailed out, RTD)
T/Sgt. Robert M. Kirk - Gunner (bailed out, RTD)
Capt. James S. Edney - Observer (bailed out, RTD)
Send e-mail or pics to B-24 Best Web Master along with your questions or comments about this web site.
Copyright © 1997 B-24 Best Web. Published on Veterans Day 11/11/97. Last modified: 27-Mar-2021