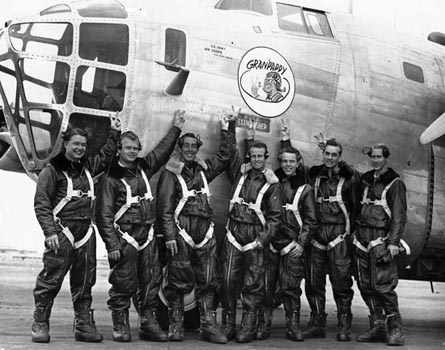 | | | | | | | | | | | | | | | | | |
| --- | --- | --- | --- | --- | --- | --- | --- | --- | --- | --- | --- | --- | --- | --- | --- | --- |
| NAME | TP | - | M# | SER | - | BLK | - | MF | SERIAL # | AF | BG | BS | SC | RCL/# | V#-P | PHOTO CREDITS |
| GRAN'PAPPY | XB | - | 24 | B | - | - | - | CO | 39-680 | ~ | ~ | ~ | ~ | ~ | 00-2 | SDASM |
Port (Left) Side - S/N Changed from 39-556 "556" to 39-680 (Series "B") & Renamed to GRAN'PAPPY
Renamed to AМЕРИКА (AMERICA)
Info Contributor - Al Blue
After its maiden flight on 29 Dec 1939, the XB-24 (serial 39-556) was delivered to the AAF for test purposes on 19 Feb 1940. These tests were completed on 9 Jun 1940. On 26 Jul 1940 it was decided the plane would be retained by CAC after its acceptance to permit installation of turbochargers, leak-proof tanks and other improvements. The XB-24 was then accepted by the AAF on 13 Aug 1940 and immediately reassigned back to CAC.
The extensive nature of the modifications to be made caused the plane to be re-designated the XB-24B. On 20 Jan 1941 the serial number was officially changed (actually, corrected) to 39-680 by Engineering Order #P-2392. The plane made its first flight as the XB-24B on 1 Feb 1941, and at some point was named GRAN'PAPPY.
The XB-24B remained at CAC in test status for the next two years. All sorts of things were done to it - too numerous to mention. The AAF then bailed the plane to Consolidated (ConVair by this time) for an additional year, during which time the ship was converted to a VIP transport (AМЕРИКА). This version was completed at the end of 1944 and (as I mentioned in a previous email) the plane was delivered to the 6th Ferry Group on 25 April 1945. It later served with the 503rd AAFBU at Washington National Airport.
Send e-mail or pics to B-24 Best Web Master along with your questions or comments about this web site.
Copyright © 1997 B-24 Best Web. Published on Veterans Day 11/11/97. Last modified: 27-Mar-2021