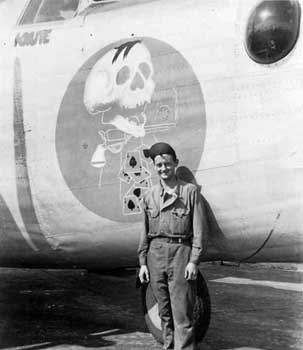 NAME
TP
-
M#
SER
-
BLK
-
MF

SERIAL #

AF

BG

BS

SC
RCL/#
V#-P

PHOTO CREDITS

HARD WAY, The

B

-

24

J

-

150

-

CO
44-40242
8
491
854
6X
L-
01-

2

EARL J. TABOR
Starboard (Right) Side - Renamed from The PRIDE OF THE 48
AKA "BLUE BALLS" / "The HOMING PIGEON"
Contributor - Fran Tabor
My Father, Earl Junior Tabor, was the Top Turret Gunner.
Info Contributor - Kurt L. Knutsen
Shown with Ray Jennings, Crew Chief. My Father, Steinar Knutsen, was the Co-Pilot with David E. Hicks, Pilot.
Info Contributor - Tom Brittan
Original aircraft. Named The PRIDE OF THE 48 with a picture of the outline of the United States having a pin up girl in the centre. Next a circle was painted on containing a skull with a tuft of red hair and two six shooters and seven aces of spades underneath and it was named The HARD WAY. This picture was covered with blue paint. In a communication dated 23 Jun 44 from 491st BG to 2nd BD, it is listed as having no name and its insignia is described as a plain blue circle. At that time, it was nicknamed BLUE BALLS. RCM installed. Repaired after engine caught fire on 26 Sep 44 while taxiing for take-off on a mission to Hamm. Returned 5 Jan 45 from BAD 2, Warton, Lancashire. Transferred from 854th BS to 852nd BS (3Q G) in Jan or Feb 45. RZI May 45 having completed 95 missions.
Send e-mail or pics to B-24 Best Web Master along with your questions or comments about this web site.
Copyright © 1997 B-24 Best Web. Published on Veterans Day 11/11/97. Last modified: 27-Apr-2021