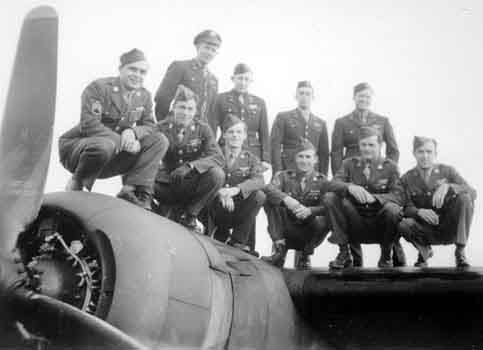 | | | | | | | | | | | | | | | | | |
| --- | --- | --- | --- | --- | --- | --- | --- | --- | --- | --- | --- | --- | --- | --- | --- | --- |
| NAME | TP | - | M# | SER | - | BLK | - | MF | SERIAL # | AF | BG | BS | SC | RCL/# | V#-P | PHOTO CREDITS |
| HEAVY DATE | B | - | 24 | H | - | 5 | - | FO | 42-7766 | 8 | 389 | 566 | ~ | H+ | 02-1 | ELDON NEIL COLBY |
Lost 30 Dec 43, GER - MACR 1974 - Pilot Eldon N. Colby
Contributor - Roy Potter
Shown with my Great Uncle, 1st Lt. Eldon Neil Colby (Pilot - standing far right), who flew this aircraft on 8 missions, including the one he was shot down in by ME-110's near the France/German border, on a raid to Ludwigshafenon, 30 Dec 43. Co-Pilot Taylor was KIA, Navigator Rasmussen and Engineer Grima evaded capture with the help of the French resistance and finally made it back to England. The rest of the crew became POW's, including my uncle Colby who sat out the rest of the war at Stalagluft 1 in Barth, Germany.
Standing (L-R)
Co-Pilot - Roger Taylor
Navigator - Darwin Rasmussen
Bombardier - Robert Hosier
Pilot - Neil Colby



Kneeling (L-R)
Waist Gunner - Joe Bagdonis
Top Turret/Engineer - Tom Grima
Radio Operator - Richard Peterson
Tail Gunner - Leonard Grime
Waist Gunner - Stan Vaughn
Ball Turret Gunner - Robert Pipkin
Research Team Comments: Aircraft shown may not have been named HEAVY DATE. 42-7766 was originally with 448th BG /713th BS (T). Arrived at Seething 30 Nov 43 and transferred before flying any combat missions to 8/389/566 (H+). Lost 30 Dec 43.
Send e-mail or pics to B-24 Best Web Master along with your questions or comments about this web site.
Copyright © 1997 B-24 Best Web. Published on Veterans Day 11/11/97. Last modified: 27-Mar-2021