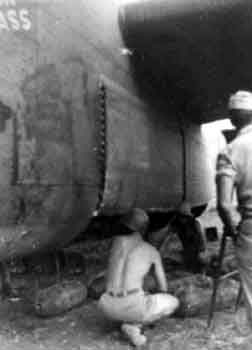 | | | | | | | | | | | | | | | | | |
| --- | --- | --- | --- | --- | --- | --- | --- | --- | --- | --- | --- | --- | --- | --- | --- | --- |
| NAME | TP | - | M# | SER | - | BLK | - | MF | SERIAL # | AF | BG | BS | SC | RCL/# | V#-P | PHOTO CREDITS |
| IRON ASS | B | - | 24 | D | - | 95 | - | CO | 42-40769 | 8 | 93 | 329 | ~ | X | 00-3 | CLINT GRUBER |
Port (Left) Side - Lost 1 Dec 43, GER - MACR 2185 - Pilot Horace R. Ketchum
Contributor - Lee Allbery via Robert "Bob" Thomson
I obtained these photos from my father-in-law, Robert "Bob" Thomson. He knew that the Co-Pilot (Clint Gruber) took the photos but could not remember his name. Through this site, I now have this info!
Info Contributor - Clint Gruber (Co-Pilot)
What a surprise to see this pic of "Iron Ass" on the B24 Best Web Page! I was just whipping through to see if there were any new pics, and BAM!... There they were! I took this picture at an air base near Tunis in early September of 1943. Dick Ketchum was the Pilot and I was the Co-Pilot on that crew. This was our second trip to North Africa.
Info Contributor - Tom Brittan
Was originally 8/389/566 (call letter D-) and was involved in a landing accident at St. Mawgan, Cornwall, 1 Jul 43 en route to North Africa. The necessary repairs delayed its departure for MTO and on arrival (probably after the 1 Aug 43 Ploesti mission) it was transferred to become 8/93/329 (call letter X). Lost on 01 Dec 43.
Send e-mail or pics to B-24 Best Web Master along with your questions or comments about this web site.
Copyright © 1997 B-24 Best Web. Published on Veterans Day 11/11/97. Last modified: 27-Mar-2021