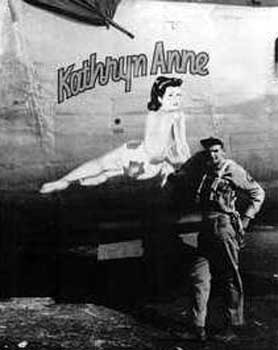 | | | | | | | | | | | | | | | | | |
| --- | --- | --- | --- | --- | --- | --- | --- | --- | --- | --- | --- | --- | --- | --- | --- | --- |
| NAME | TP | - | M# | SER | - | BLK | - | MF | SERIAL # | AF | BG | BS | SC | RCL/# | V#-P | PHOTO CREDITS |
| KATHRYN ANNE | B | - | 24 | J | - | 1 | - | NT | 42-78600 | 15 | 98 | 343 | ~ | A | 00-4 | N/A |
Starboard (Right) Side - Port has DOPEY - Nose Art Inspiration - ALBERTO VARGAS


Interned in Dübendorf, SWI 8 Apr 45 - MACR 14860 - Pilot Robert E. McKee, Jr.
Info Contributor - Daniel L. Stockton


Two damaged B-24 Liberators are being intercepted by Swiss Messerschmitt Bf 109 E-3's, after seeking refuge over their airspace. The B-24's are "DOPEY/KATHYRN ANNE" (42-78600) of the 98th BG and "STRANGE CARGO?" (42-51623) of the 450th BG.
Info Contributor - Danny Viola
This A/C was painted during WWII on an Italian airfield by my Father, Sgt. Gerald Viola (Aircraft Electrician). On the starboard side, he painted (at the request of the Pilot) a composite picture using a Vargas painting and a picture of the pilot's girl friend, KATHYRN ANNE, which was written in script. His work is distinguishable because it looks exactly like the subject he is painting. Another way to tell his work is the use of block letters. He painted BASHFUL (42-78443), DOC (42-51147), DOPEY / KATHRYN ANNE (42-78600), GRUMPY (42-51586), HAPPY (42-78457), SLEEPY (S/N ?), SNEEZY (42-51161), and SNOW WHITE (42-51008).
Send e-mail or pics to B-24 Best Web Master along with your questions or comments about this web site.
Copyright © 1997 B-24 Best Web. Published on Veterans Day 11/11/97. Last modified: 02-Sep-2021