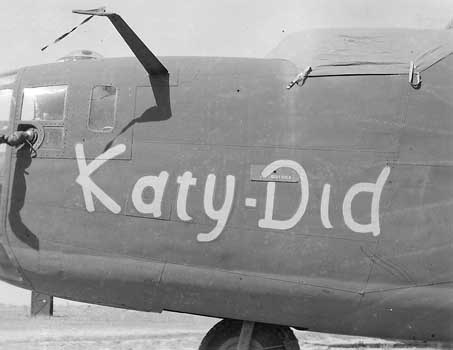 | | | | | | | | | | | | | | | | | |
| --- | --- | --- | --- | --- | --- | --- | --- | --- | --- | --- | --- | --- | --- | --- | --- | --- |
| NAME | TP | - | M# | SER | - | BLK | - | MF | SERIAL # | AF | BG | BS | SC | RCL/# | V#-P | PHOTO CREDITS |
| KATY-DID | B | - | 24 | D | - | 25 | - | CO | 41-24284 | 14 | 308 | 375 | ~ | ~ | 00-2 | MAX "POOKIE" TEPPER |
Port (Left) Side
Contributor - Clem Clapp
Info Contributor - John "Jack" B. Carey - Pilot [Col. USAF (Retired)]
One of the original B-24Ds in the 308th Bomb Group that went to China in early 1943. KATY-DID survived well over a hundred missions, despite the fact that the 308th had the highest aircraft loss rate in the Army Air Corp. Many of our losses were due to weather and mountainous terrain coupled with a near complete lack of navigational aids. KATY-DID was returned to the states when the later models were available and was sent to the chopping block for salvage. Crew Members:
Jack Carey - Pilot
Willie Clark - Co-Pilot
Ed Ballenger - Navigator
Bob Stauffer - Bombardier
Burton - Top Turret Gunner/Engineer
Darewski - R Waist Gunner/Radio Operator
Forbes - L Waist Gunner/Asst Engineer
Benefield - Tail Gunner
Info Contributor - Coleen Carey-Mitchell (Daughter of Pilot Jack Carey)
I was searching the web for information about my Father, John B. Carey, Jr, and found the photo he sent you of his B-24, KATY-DID (named after my older sister). My Father died 14 Dec 04, two months short of his 86th birthday. He flew his North American L-17 Navion(s) up until he had a heart attack in his early 70's. He was truly a hero, as are all of the men who defend our country and put their lives on the line every day. We miss him terribly. Thank you for your contribution to the memories of our loved ones.
Send e-mail or pics to B-24 Best Web Master along with your questions or comments about this web site.
Copyright © 1997 B-24 Best Web. Published on Veterans Day 11/11/97. Last modified: 27-Mar-2021