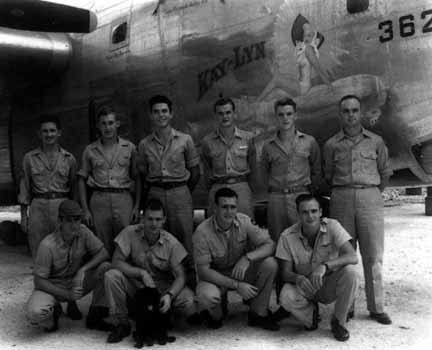 NAME
TP
-
M#
SER
-
BLK
-
MF

SERIAL #

AF

BG

BS

SC
RCL/#
V#-P

PHOTO CREDITS

KAY-LYN

B

-

24

J

-

160

-

CO

44-40362

7

30

38

~

362

00-

3

NEIL E. STONE
Nose Art Inspiration - ALBERTO VARGAS

Contributor - Kay-Lyn Turner
I was named after this plane by my Father, Neil Edward Stone (Radio Operator - Standing Far Left).
Standing (L-R)
Neil E. Stone - Radio Operator
Combs - Top Turret Gunner
Knox - Tail Gunner
Humphries - Waist Gunner
Warfel - Ball Turret Gunner
Edwards - Armorer
Kneeling (L-R)
E. A. Jermalski - Navigator
E. R. Froman - Bombardier
E. E. McGrath - Co-Pilot
Lonnie J. Eggleston - Pilot



Info Contributor - Shannon Eggleston
Shown with my Grandfather, Lonnie J. Eggleston (Pilot - Kneeling Far Right).
Info Contributor - Daniel L. Stockton
Transferred from 11th BG / 98th BS, where she was named by Pilot Earl Heidick after his mother Kay and wife Lyn. Flew from 9 Aug 44 and completed 40 missions 12 Jan 45.
Send e-mail or pics to B-24 Best Web Master along with your questions or comments about this web site.
Copyright © 1997 B-24 Best Web. Published on Veterans Day 11/11/97. Last modified: 27-Mar-2021