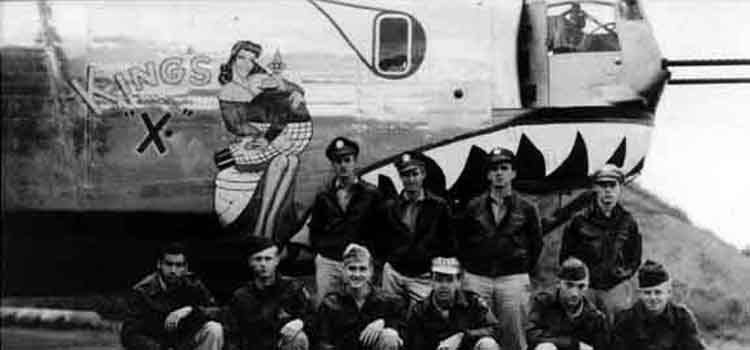 | | | | | | | | | | | | | | | | | |
| --- | --- | --- | --- | --- | --- | --- | --- | --- | --- | --- | --- | --- | --- | --- | --- | --- |
| NAME | TP | - | M# | SER | - | BLK | - | MF | SERIAL # | AF | BG | BS | SC | RCL/# | V#-P | PHOTO CREDITS |
| KING'S "X" | B | - | 24 | J | - | 170 | - | CO | 44-40584 | 14 | 308 | 375 | ~ | ~ | 00-3 | CHARLIE JANKO |
Starboard (Right) Side
Contributor - Michael J. Whitacre
My Dad, Don E. Bresher (Armour Gunner-kneeling, far left) and his crew, picked up the aircraft (straight from the factory) at Hamilton Field, California, in April, 1944. They transported the plane to Kunming, China, and since they did not have seniority, lost KING'S "X" to a more senior crew. They flew their first 8 missions in BATTLIN' BITCH (41-24237) and The BITCH'S SISTER (42-73319), and after they finished their missions, they got back their original bird... KING'S "X". They flew 21 more missions in this aircraft, before the crew split up, and was reassigned to different locations. Some of the missions they flew, were to Hanoi, to bomb the railroad yards, laying parachute mines in the channel between Hong Kong and Victoria Island, and the bombing of the Burma road. This photo was taken by their Crew Chief, S/Sgt. Charlie Janko.
Standing (L-R)
Bombardier - 2nd Lt. Jack Nichols
Co-Pilot - 2nd Lt. Walker Mitchell
Pilot - 1st Lt. George B. Cosgrove
Navigator - 2nd Lt. James Braniff "Little Rebel"



Kneeling (L-R)
Armour Gunner - S/Sgt. Don E. Bresher "Big Wheel"
Nose Gunner - Sgt. Erwin Klohs
Tail Gunner - Sgt. Robert Krackenberger "Little Wheel"
Flight Engineer/Waist Gunner - T/Sgt. Douglas Ogilvie
Lower Ball Gunner - Sgt. Norbert Knapp "Nubs"
Radio Operator/Waist Gunner - Sgt. Bjorn Holm "Hughie"
Send e-mail or pics to B-24 Best Web Master along with your questions or comments about this web site.
Copyright © 1997 B-24 Best Web. Published on Veterans Day 11/11/97. Last modified: 30-May-2021