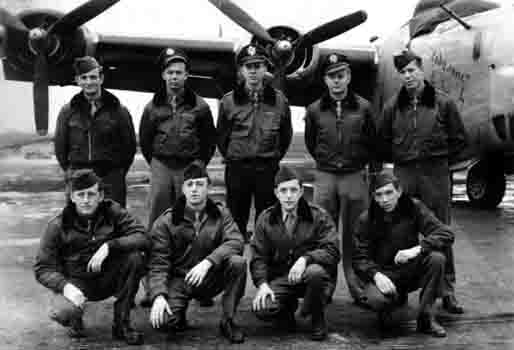 | | | | | | | | | | | | | | | | | |
| --- | --- | --- | --- | --- | --- | --- | --- | --- | --- | --- | --- | --- | --- | --- | --- | --- |
| NAME | TP | - | M# | SER | - | BLK | - | MF | SERIAL # | AF | BG | BS | SC | RCL/# | V#-P | PHOTO CREDITS |
| LADY JANE | B | - | 24 | H | - | 30 | - | DT | 42-51188 | 8 | 482 | 36 | R4 | O | 01-7 | ROBERT BALLARD |
Starboard (Right) Side
Contributor - Bob Ballard
With the RAF 100th Bomb Group. Lt. Studstraps and crew, early 1945. My Dad, 2nd Lt. Robert Ballard (Navigator), is standing second from left.
Info Contributor - Stephen M. Hutton
The 36th Bomb Squadron (H) Radar Countermeasure Unit, (36BS RCM) initially began as the 803rd Bomb Squadron (Provisional) and was the 8th Air Force's only electronic warfare squadron. This secret unit was first placed under the 8AF Composite Command (Mar 44) for administration and later re-designated as the 36BS RCM (Aug 44). Next the 36BS was assigned to the 8AF Fighter Command (Oct 44) for administration, then the 1st Air Division (Jan 45) and finally assigned to the 482BG (Feb 45). In all instances the 36BS was assigned to these organizations only for administration purposes. Operational control for its special missions and training was exercised by 8th Air Force Headquarters in England. The first half of the missions the squadron flew were with the Royal Air Force 100 Group on nights. 8AF HQ coordinated these missions with RAF Bomber Command. At the end of the war in Europe, all the Liberators were stationed with the 482nd Bomb Group at Station 102 Alconbury, England.
Send e-mail or pics to B-24 Best Web Master along with your questions or comments about this web site.
Copyright © 1997 B-24 Best Web. Published on Veterans Day 11/11/97. Last modified: 27-Mar-2021