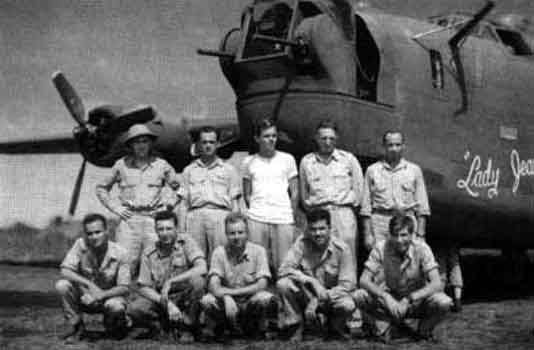 | | | | | | | | | | | | | | | | | |
| --- | --- | --- | --- | --- | --- | --- | --- | --- | --- | --- | --- | --- | --- | --- | --- | --- |
| NAME | TP | - | M# | SER | - | BLK | - | MF | SERIAL # | AF | BG | BS | SC | RCL/# | V#-P | PHOTO CREDITS |
| LADY JEANNE II | B | - | 24 | J | - | 20 | - | CO | 42-73193 | 5 | 380 | 529 | ~ | ~ | 00-1 | JAMES CLARK |
Renamed from B.T.O. (AKA "B.T.O. II")
Contributor - Theodore J. Williams
The original B.T.O. (Big Time Operator) 42-41214, was a D1 (non OKC) in our 529th Squadron and was lost 12 Jan 44 (mission to Balikpapan) with the Hagler Crew on their first mission.
However, before this happened, we received a new "J" also named B. T. O. We always referred to the second one as "B. T. O. II" (to distinguish it from the original) which had not yet been lost. This was immediately renamed LADY JEANNE II, since our original LADY JEANNE had been turned in as War Weary, and was transferred to the 90th BG as a replacement, and received a Townsville turret.
Send e-mail or pics to B-24 Best Web Master along with your questions or comments about this web site.
Copyright © 1997 B-24 Best Web. Published on Veterans Day 11/11/97. Last modified: 27-Mar-2021