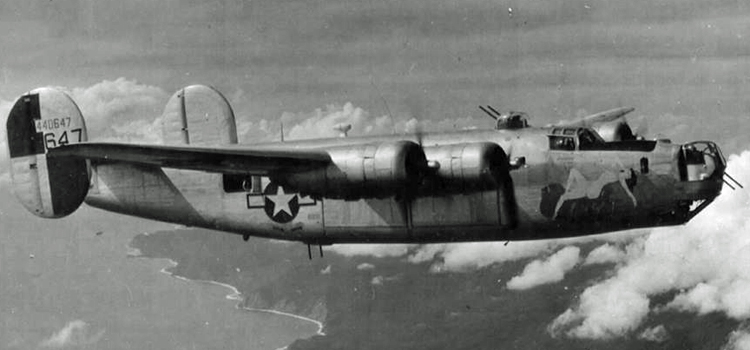 | | | | | | | | | | | | | | | | | |
| --- | --- | --- | --- | --- | --- | --- | --- | --- | --- | --- | --- | --- | --- | --- | --- | --- |
| NAME | TP | - | M# | SER | - | BLK | - | MF | SERIAL # | AF | BG | BS | SC | RCL/# | V#-P | PHOTO CREDITS |
| LADY KAYE | B | - | 24 | J | - | 170 | - | CO | 44-40647 | 7 | 494 | 867 | ~ | ~ | 00-1 | N/A |
Starboard (Right) Side - 1st Nose-Art
Info Contributor - James A. Leddy
Caption Reads: "The Consolidated B-24 LADY KAYE of the 494th Bomb Group flies high above the Gulf of Davao off of Mindanao in the Philippines, en route to bomb Japanese installations in the small village of Ising, located about four miles north of the Gulf, 24 Feb 45. The raid was made in conjunction with the Guerilla forces operating in the area."
Info Contributor - Robert R. Byar (Ball Turret Gunner)
My son, Gary, told me about this web site, and it was a real "charge" to see LADY KAYE, again! I sure appreciate what you have done in creating this site and the information contained. This photo is our crew's 23rd mission. We bombed troop concentrations and storage areas, on this day, flying 8 hours and 25 minutes, from our base on Anguar Island. This was the "First" nose art on our plane, and was done by S/Sgt. Harrison E. Snode (Top Turret Gunner). The painting didn't last, and later it was re-painted by T/Sgt. Al Restuccia, I believe.
Send e-mail or pics to B-24 Best Web Master along with your questions or comments about this web site.
Copyright © 1997 B-24 Best Web. Published on Veterans Day 11/11/97. Last modified: 27-Mar-2021