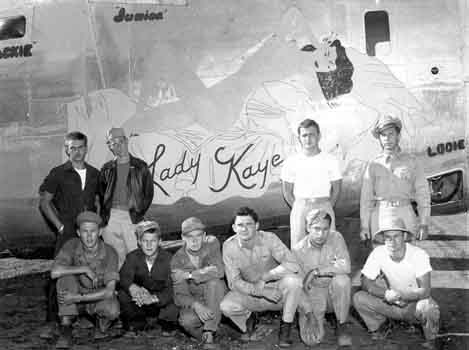 | | | | | | | | | | | | | | | | | |
| --- | --- | --- | --- | --- | --- | --- | --- | --- | --- | --- | --- | --- | --- | --- | --- | --- |
| NAME | TP | - | M# | SER | - | BLK | - | MF | SERIAL # | AF | BG | BS | SC | RCL/# | V#-P | PHOTO CREDITS |
| LADY KAYE | B | - | 24 | J | - | 170 | - | CO | 44-40647 | 7 | 494 | 867 | ~ | ~ | 00-3 | N/A |
Starboard (Right) Side - 1st Nose-Art
Contributor - David McCullough
Info Contributor - James A. Leddy
Note: 2Lt Carol L. Warford (Navigator) replaced Coffey. Crew 53 (6 Aug 44):
Standing (L-R)
S/Sgt Robert R. Byar - Ball Gunner
S/Sgt Harrison E. Snode - Top Gunner
T/Sgt Alfred E. Hoertz - Radio Operator
Cpt Robert D. Larson - Pilot



Kneeling (L-R)
T/Sgt Harry J. Siegel - Engineer
S/Sgt Ralph F. Bianski - Nose Gunner
S/Sgt Duane B. Irwin - Tail Gunner
1Lt Richard E. Coffey - Navigator
1Lt Marshall L. Keller - Bombardier
1Lt Alfred E. Redmun - Co-Pilot
Info Contributor - Robert R. Byar (Ball Gunner)
The "First" nose art on our plane was done by S/Sgt. Harrison E. Snode (Top Gunner). The painting didn't last, and later it was re-painted by T/Sgt. Al Restuccia, I believe.
Send e-mail or pics to B-24 Best Web Master along with your questions or comments about this web site.
Copyright © 1997 B-24 Best Web. Published on Veterans Day 11/11/97. Last modified: 29-Dec-2021