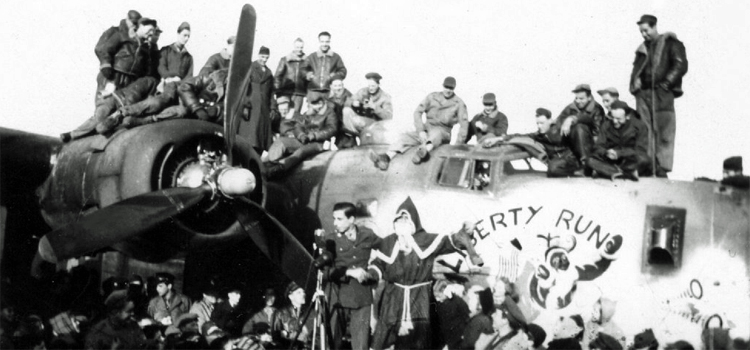 NAME
TP
-
M#
SER
-
BLK
-
MF

SERIAL #

AF

BG

BS

SC
RCL/#
V#-P

PHOTO CREDITS

LIBERTY RUN

B

-

24

J

-

130

-

CO

42-110078

8

453

735

H6

P

01-

4

N/A
Starboard (Right) Side
Info Contributor - Dan Davis
Taken at Old Buckenham, England, Christmas 1944. From Derek Ernst:
"I am the boy in the picture next to Santa and the American Air Force officer, wearing the battledress with hands in pocket. My mother, brother and myself lived in Banham rectory. My mother was French from Alsace and isolated from her family throughout the war. Because of the French connection I was chosen to name the aircraft [I Christian this ship the LIBERTY RUN] I became very uneasy about doing this after a few practices and the task was given to a girl called Elizabeth(?) from Attleborough or Old Buckenham. I stood nearby and after the naming I carried the first sack of mail on board the aircraft.
Unfortunately I don't have any photos of the event, I remember the day reasonably well, particularly the excellent treats the Americans gave the many hundreds of children who were there. I always remember this unusual tall gawky American, which I now think was James Stewart.
I think it was the following day we received a message at school telling us she had made her first run over France and dropped the presents. A couple of years ago we were watching one of the last episodes of the World at War, I had to explain my great excitement to my wife after jumping out of the chair when the LIBERTY RUN came on the screen.
My brother served for 40 years in the RAF. WO John Ernst. He served at quite a number of Norfolk bases; Swanton Morley, Saint Faiths, etc. Waddington, Chief Tech of a Vulcan squadron. I served in the RN, then moved to Australia, joined Civil Aviation and had a career in Air Traffic."
Info Contributor - Wes Brockway
Shown with my Uncle, T/SGT Reuben Brockway, playing Santa.
Info Contributor - Tom Brittan
Received at Old Buckenham in Apr 44 and was originally 734th as E8 A. On 1 May 44 , it was transferred to 735th as H6 P later P. It remained in 735th until 1 Apr 45 when it was transferred to 732nd with an unknown call letter.
It was known as (and nicknamed) "SHOO SHOO BABY" but the name was never painted on it. The name LIBERTY RUN and nose art of Santa Clause were added in Dec 44 on the occasion of a Christmas Party for children at Old Buckenham (which I had the privilege of attending). The plane was loaded with gifts for French children and flown to Paris-Orly.
Send e-mail or pics to B-24 Best Web Master along with your questions or comments about this web site.
Copyright © 1997 B-24 Best Web. Published on Veterans Day 11/11/97. Last modified: 26-Dec-2021