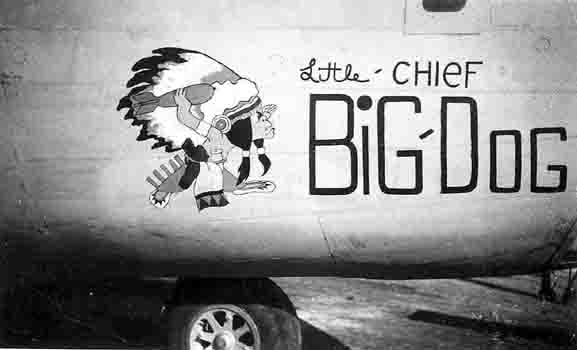 | | | | | | | | | | | | | | | | | |
| --- | --- | --- | --- | --- | --- | --- | --- | --- | --- | --- | --- | --- | --- | --- | --- | --- |
| NAME | TP | - | M# | SER | - | BLK | - | MF | SERIAL # | AF | BG | BS | SC | RCL/# | V#-P | PHOTO CREDITS |
| LITTLE-CHIEF BIG-DOG | B | - | 24 | D | - | - | - | CO | 41-11825 | 9 | 98 | 344 | ~ | | 00-1 | ARTHUR ROCKWOOD |
Survived Operation TIDAL WAVE, 1 Aug 43, Ploesti Romania
Contributor - Bill Whitney
This aircraft originally served in the 344th BS as HAIL COLUMBIA. It was 344th CO John R. Kane's personal aircraft until Kane became 98th BG CO and turned it over to Herman "Big-Dog" Lewis. Lewis changed the right side nose art to LITTLE-CHIEF BIG-DOG but retained HAIL COLUMBIA on the left side. Following the death of Lewis in another ship, the airplane was transferred to the 343rd BS where the left side art work was changed to GRUMPY in compliance with the Snow White Squadron directive. Wilfred Brann was the crew chief of GRUMPY in the 343rd. LITTLE-CHIEF BIG-DOG had been removed prior to the Rome mission of 19 July 43. Just prior to the low level Ploesti mission, 98th Group CO John R. "Killer" Kane had the airplane returned to the 344th BS where a new form of the original HAIL COLUMBIA nose art quickly replaced GRUMPY. The aircraft cracked up while landing at Cyprus following the low level Ploesti mission and was abandoned.
Info Contributor - Herb Harper
Herman Lewis (LITTLE-CHIEF BIG-DOG) was at one time Killer Kane's Co-Pilot, and had his Emblem painted on the right side of Hail Columbia. Later he got his own aircraft (42-40106) which he named LITTLE-CHIEF BIG-DOG. However, before he even got to fly it, another crew ditched it on a flight to Cairo. Herman and his crew were lost 19 Jan 44 in ALICE THE GOON (41-11786).
Send e-mail or pics to B-24 Best Web Master along with your questions or comments about this web site.
Copyright © 1997 B-24 Best Web. Published on Veterans Day 11/11/97. Last modified: 27-Mar-2021