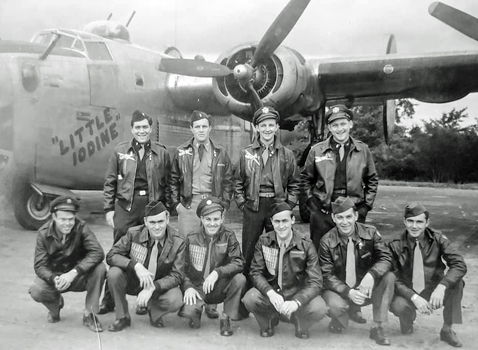 NAME
TP
-
M#
SER
-
BLK
-
MF

SERIAL #

AF

BG

BS

SC
RCL/#
V#-P

PHOTO CREDITS

LITTLE IODINE

B

-

24

H

-

15

-

DT

41-28941

8

489

846

8R
+

H

02-3

ROBERT MCMAHON
Port (Left) Side - Character from "Little Iodine Comics" (Creator - Jimmy Hatlo) - DT Line #533
Flight Jacket

Contributor - Bob McMahon
Shown with my Father, Robert McMahon (Pilot), Standing 2nd from Left.
Info Contributor - Tom Brittan
Transferred to 448BG 714BS as EI (T in a square) and crash-landed 16 Jan 45 on the Continent where it was salvaged 26 Jan 45. There has been confusion in the ID with 44-10516 in the past, as both aircraft (with the same name) were assigned to the same group/squadron for a brief period in late 1944, early 1945.
Send e-mail or pics to B-24 Best Web Master along with your questions or comments about this web site.
Copyright © 1997 B-24 Best Web. Published on Veterans Day 11/11/97. Last modified: 10-Apr-2021