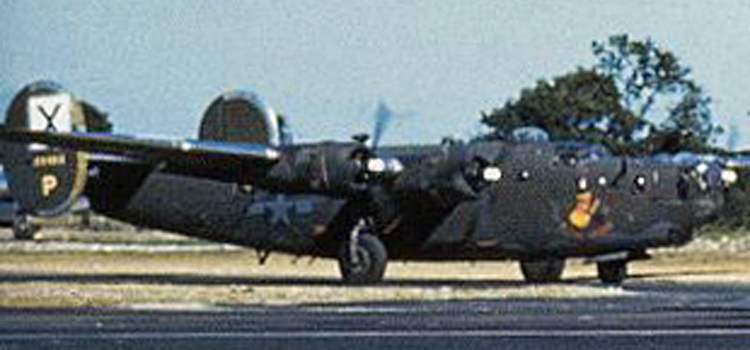 | | | | | | | | | | | | | | | | | |
| --- | --- | --- | --- | --- | --- | --- | --- | --- | --- | --- | --- | --- | --- | --- | --- | --- |
| NAME | TP | - | M# | SER | - | BLK | - | MF | SERIAL # | AF | BG | BS | SC | RCL/# | V#-P | PHOTO CREDITS |
| LITTLE WARRIOR | B | - | 24 | H | - | 20 | - | FO | 42-94812 | 8 | 493 | 861 | ~ | P | 00-2 | CLIFFORD A. STOCKING |
Lost 29 Jun 44, GER - MACR 6721 - Pilot John H. Hansen
Contributor - Richard M. Stocking
My Brother, Staff Sergeant Clifford A Stocking (Waist Gunner) took this photo 28 Jun 44 over Quakenbruk, Germany. The photo is a reproduction (done in my darkroom) from the original negative which my Brother was able to acquire from the Army archives. It depicts a true perspective of the flight attitude of the aircraft at the time. LITTLE WARRIOR was not in level flight as depicted in the photo at The Air Force Museum in Dayton, Ohio, but in a "nose up" position. After my brother snapped the picture, he noticed that LITTLE WARRIOR was veering in towards The GREEN HORNET. He and the other Waist Gunner quickly snapped on their chest chutes. The Pilot of LITTLE WARRIOR (Lieutenant John H. Hansen) was able to redirect his aircraft away from The GREEN HORNET. Only one crew member was able to bail out , and unfortunately he was killed by townspeople on the ground.
Info Contributor - Bill Toombs
I flew in this plane, on the mission before, and I guess it was just "Fate" that I wasn't on it during this mission! We just happened to be in another plane in the high element.
Send e-mail or pics to B-24 Best Web Master along with your questions or comments about this web site.
Copyright © 1997 B-24 Best Web. Published on Veterans Day 11/11/97. Last modified: March 01, 2015