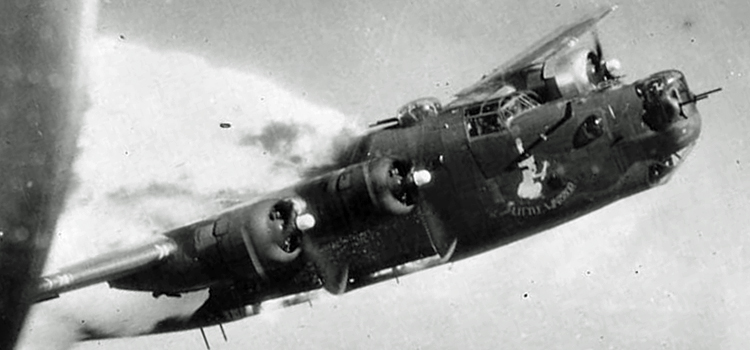 | | | | | | | | | | | | | | | | | |
| --- | --- | --- | --- | --- | --- | --- | --- | --- | --- | --- | --- | --- | --- | --- | --- | --- |
| NAME | TP | - | M# | SER | - | BLK | - | MF | SERIAL # | AF | BG | BS | SC | RCL/# | V#-P | PHOTO CREDITS |
| LITTLE WARRIOR | B | - | 24 | H | - | 20 | - | FO | 42-94812 | 8 | 493 | 861 | ~ | P | 00-3 | CLIFFORD A. STOCKING |
Transferred from 490th/850th to 493rd/861st (P) - White Propeller Hubs (861st BS)
Lost 29 Jun 44, GER - MACR 6721 - Pilot John H. Hansen (862nd BS)
Contributor - Richard M. Stocking
My Brother, Staff Sergeant Clifford A Stocking (Waist Gunner) took this photo 28 Jun 44 over Quakenbruk, Germany. The photo is a reproduction (done in my darkroom) from the original negative which my Brother was able to acquire from the Army archives. It depicts a true perspective of the flight attitude of the aircraft at the time. LITTLE WARRIOR was not in level flight as depicted in the photo at The Air Force Museum in Dayton, Ohio, but in a "nose up" position. After my brother snapped the picture, he noticed that LITTLE WARRIOR was veering in towards The GREEN HORNET (44-40286). He and the other Waist Gunner quickly snapped on their chest chutes. The Pilot of LITTLE WARRIOR (Lieutenant John H. Hansen) was able to redirect his aircraft away from The GREEN HORNET. Only one crew member (Co-Pilot, 2nd Lt. Sidney A. Benson) was able to bail out, and unfortunately he was killed by townspeople on the ground.
Info Contributor - Bill Toombs
I flew in this plane, on the mission before, and I guess it was just "Fate" that I wasn't on it during this mission! We just happened to be in another plane in the high element.
Info Contributor - Brian Lindner
Jay Oling (490th BG/850th BS) confirms that he flew this plane to England. At no time was it ever called "Little Lakassaky". The crew did want to put on a somewhat risqué name but their concept was squashed as being too bold. The crew then came up with the LITTLE WARRIOR design which was quickly approved. The crew hired a sergeant to paint the design on the nose. It turned out so poorly that Oling removed it and repainted the nose art himself. It remained unchanged until the day that Lt. Hansen's crew went down with the plane. The Co-Pilot, 2nd Lt. Sidney A. Benson of Marblehead, Massachusetts was the only one to make it out of the plane. He was captured as soon as he touched down and within the hour had been murdered. He was shot by a member of the Hitler Youth then beaten by a group of Air Raid Wardens. The crew's regular Radio Operator (Sgt. Jose Romas) was sick that day and his place was taken by Sgt. Billy Gomillion who went down with the plane.
Send e-mail or pics to B-24 Best Web Master along with your questions or comments about this web site.
Copyright © 1997 B-24 Best Web. Published on Veterans Day 11/11/97. Last modified: 27-Mar-2021