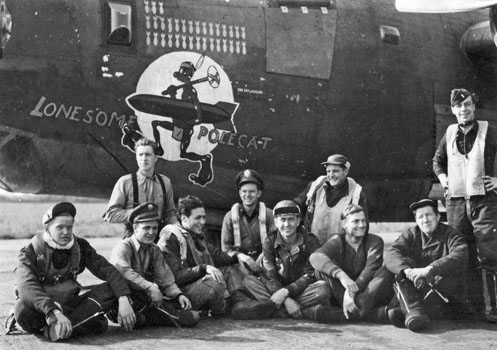 | | | | | | | | | | | | | | | | | |
| --- | --- | --- | --- | --- | --- | --- | --- | --- | --- | --- | --- | --- | --- | --- | --- | --- |
| NAME | TP | - | M# | SER | - | BLK | - | MF | SERIAL # | AF | BG | BS | SC | RCL/# | V#-P | PHOTO CREDITS |
| LONESOME POLECAT | B | - | 24 | H | - | 5 | - | CF | 41-29249 | 8 | 453 | 734 | E8 | M+ | 03-3 | ART NOONAN |
Character from "Li'l Abner Comics" (Creator - Al Capp)
Contributor - Tom Brittan
The late Art Noonan (Navigator) with Robert Witzel's crew, flew the aircraft to England on many missions through 20 May 44. Changed RCL to (M-) between 10 & 19 May 44. Last combat mission: 13 Sep 44. Declared War Weary. Salvaged 29 May 45 by BAD 3, Langford Lodge, Northern Ireland.
Info Contributor - Mark Hafer
Shown with the late Harry "Lewis" Rodgers (Co-Pilot - with suspenders, kneeling). His explanation for why he was not looking at the camera was that he was "watching the donut truck" which delivered hot coffee and donuts to the crews following the mission. He lived in Lewistown, PA and passed away in Nov 2004.
The other crew members were Robert B. Witzel, Arthur T. Noonan, Russell A.Link, Melvin S. Shapiro, R. L. Linceycomb, Thomas C. Wills, Arthur G. McCarty, George S. Entriken, and James R. Flinn.
Info Contributor - Gary Gunsolley
Shown with my Father, SSgt Francis Gunsolley (Gunner), sitting 3rd from right.
Send e-mail or pics to B-24 Best Web Master along with your questions or comments about this web site.
Copyright © 1997 B-24 Best Web. Published on Veterans Day 11/11/97. Last modified: 27-Aug-2021