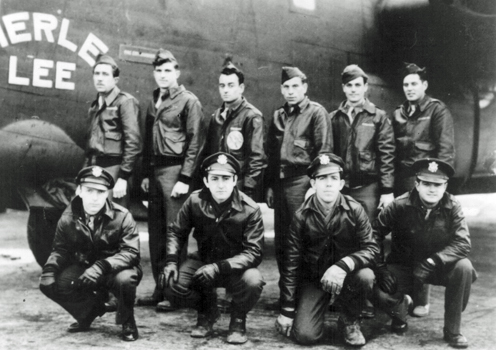 | | | | | | | | | | | | | | | | | |
| --- | --- | --- | --- | --- | --- | --- | --- | --- | --- | --- | --- | --- | --- | --- | --- | --- |
| NAME | TP | - | M# | SER | - | BLK | - | MF | SERIAL # | AF | BG | BS | SC | RCL/# | V#-P | PHOTO CREDITS |
| MERLE LEE | B | - | 24 | H | - | 1 | - | FO | 42-7584 | 8 | 446 | 707 | JU | Q | 00-2 | IRVIN C. ROEDER |
Port (Left) Side
Contributor - Vince Frazier
Shown with my Uncle-In-Law, Irvin C. Roeder (L/Waist Gunner), standing 2nd from left.
Co-Pilot 2Lt Thomas Sexton was replaced by 2Lt Edgar A. Worsham (Not Shown) on the 8 Mar 44 mission to Germany. All were KIA on A/C 42-100231 (MACR 2965).
Standing (L-R)
T/Sgt Glen O. Wilkins - Radio Operator
S/Sgt Irvin C. Roeder - L/Waist Gunner
S/Sgt William P. Civitarese - R/Waist Gunner
T/Sgt Alva W. Hood - Eng/Top Turret Gunner
S/Sgt Loring J. Robblee - Ball Turret Gunner
T/Sgt Milton L. Capps - Tail Turret Gunner
Kneeling (L-R)
1Lt Clifton C. Mcfer - Pilot
2Lt Thomas Sexton - Co-Pilot
2Lt Antigon O. Mars - Navigator
2Lt Leon Neamon - Bombardier/Nose Gunner



Info Contributor - Tom Brittan
Salvaged after belly-landing 21 Jan 44.
Send e-mail or pics to B-24 Best Web Master along with your questions or comments about this web site.
Copyright © 1997 B-24 Best Web. Published on Veterans Day 11/11/97. Last modified: 27-Mar-2021