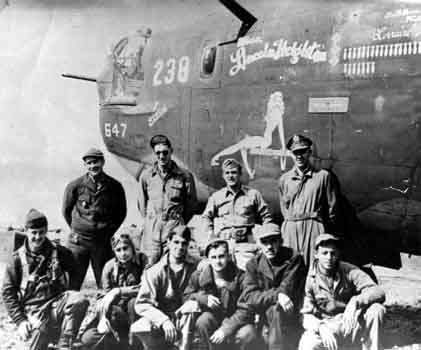 | | | | | | | | | | | | | | | | | |
| --- | --- | --- | --- | --- | --- | --- | --- | --- | --- | --- | --- | --- | --- | --- | --- | --- |
| NAME | TP | - | M# | SER | - | BLK | - | MF | SERIAL # | AF | BG | BS | SC | RCL/# | V#-P | PHOTO CREDITS |
| MISS LINCOLN HEIGHTS | B | - | 24 | H | - | 10 | - | FO | 42-52238 | 15 | 455 | 740 | ~ | | 00-2 | ROBERT E. FLEMING |
Line #647 - Lost 26 Jun 44, AUT - MACR 6402 Pg1 / Pg2 - Pilot James B. Brown
Contributor - Paul Fleming
My Uncle, 2nd Lt. Robert E. Fleming (Duty Pilot), is standing 2nd from right.
Info Contributor - David P. Ungemach
Shot down with a different crew while bombing the oil refinery at Moosbierbaum, Austria. 1st Lt James B. "Jim" Brown (Pilot), was a resident of Lincoln Heights near Los Angeles, California.
Standing (L-R)
1st Lt - Ward L. Gibben
1st Lt - Charles A. Taylor
1st Lt - Robert E. Fleming
1st Lt - James A. Cowden



Kneeling (L-R)
T/Sgt - Aime A. Boucher
S/Sgt - David G. Matheson
S/Sgt - John P. Bodman
S/Sgt - John E. Washburn
S/Sgt - Philip G. O'Neill
T/Sgt - Chris Bakos
Send e-mail or pics to B-24 Best Web Master along with your questions or comments about this web site.
Copyright © 1997 B-24 Best Web. Published on Veterans Day 11/11/97. Last modified: 27-Mar-2021