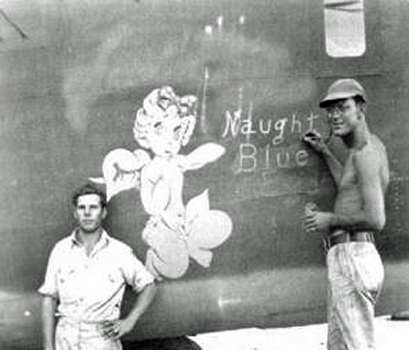 | | | | | | | | | | | | | | | | | |
| --- | --- | --- | --- | --- | --- | --- | --- | --- | --- | --- | --- | --- | --- | --- | --- | --- |
| NAME | TP | - | M# | SER | - | BLK | - | MF | SERIAL # | AF | BG | BS | SC | RCL/# | V#-P | PHOTO CREDITS |
| NAUGHTY BLUE EYES | B | - | 24 | D1 | - | 155 | - | CO | 42-72797 | 5 | 90 | 319 | ~ | ~ | 00-3 | N/A |
Shown with David E. Burns (Crew Chief, Right)
Contributor - Robert Livingstone
The Harkins crew originally used 42-72797, delivered to Australia 27 Sep 43 with a HAD turret mod with "Cat's Whiskers" and artwork of a cherub and the name CUPID. They tried to erase that name and chalked the name SANDRA KAY in place of the CUPID name in a flowery script, but then erased that when they found that it was being transferred to the 90th BG. The Harkins crew then received 42-72790 and started again with the CUPID and SANDRA KAY. "797" was flown to Moresby and joined the 90th in time for it to fly its first operation 18 Oct 43.
David E. Burns, a 319th BS Crew Chief, named it NAUGHTY XXX, changed to NAUGHTY BLUE EYES and painted the name. He stated: "All I can remember it was first a replacement that came in, that someone must have thought was going to be his and it had the little Cupid on it, but the big word had pretty well been cleaned off. Us ground crew guys decided just to call it NAUGHTY BLUE EYES and I just happened to be the one that did the painting".
Send e-mail or pics to B-24 Best Web Master along with your questions or comments about this web site.
Copyright © 1997 B-24 Best Web. Published on Veterans Day 11/11/97. Last modified: 27-Mar-2021