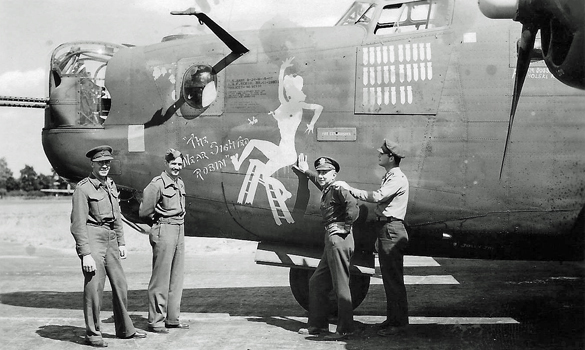 | | | | | | | | | | | | | | | | | |
| --- | --- | --- | --- | --- | --- | --- | --- | --- | --- | --- | --- | --- | --- | --- | --- | --- |
| NAME | TP | - | M# | SER | - | BLK | - | MF | SERIAL # | AF | BG | BS | SC | RCL/# | V#-P | PHOTO CREDITS |
| NEAR SIGHTED ROBIN, The | B | - | 24 | H | - | 15 | - | DT | 41-28851 | 8 | 34 | 7 | ~ | M | 00-2 | N/A |
Port (Left) Side - Interned 24 Aug 44, SWE - MACR 8461 - Pilot Giles C. Avriett
Info Contributor - Gary Ferrell
My Uncle, Dexter Burwell Jordan, served as Crew Chief, while stationed in England. Hit by flak on the 34th BG's last B-24 mission (24 Aug 44). Number 4 engine caught fire and the prop was feathered. Left formation and headed for Sweden successfully landing at Bulltofta airfield. The mission report lists the crew on that mission as Pilot 1st Lt. Giles C. Avriett; Co-Pilot John M. Soler; other crew members: 2nd Lt. Frederick J. Scheer, 2nd Lt. Benjamin F. DeHaan, T/Sgt. Raymond J. Kiaser, S/Sgt. James H. Friedel, T/Sgt. Robert O. Campbell (Engineer), S/Sgt. Jack D. Longmire (Radio Operator), S/Sgt. Lilburn E. Holmes and S/Sgt. Frederick A. Jackson.
Info Contributor - Robert Pacholski (Navigator)
One of the crew members of Averys crew, told me that the nose art of "The Robin" was so unusual that the Crown Prince of Sweden came to see it!! J. C. Smith (our Pilot) got smashed at "The Hollywood Roosevelt Hotel". A few days later, he runs across the cartoon in the paper. It was of a comely young lady, falling off a ladder. A cross-eyed robin is "biting" her nipple instead of a cherry! Hence, the name, The NEARSIGHTED ROBIN. The drawing was signed by Walt Disney. To this day, we do not know if he (or someone else pulling Smithy's leg) signed the drawing! Makes for a good story though!
Info Contributor - Victoria M. Lupei-Case (Daughter of Victor Lupei - Co-Pilot)
My Dad flew B-52s while in Viet Nam and retired in the 1960's from the Air Force, after 26 years of active duty.
Send e-mail or pics to B-24 Best Web Master along with your questions or comments about this web site.
Copyright © 1997 B-24 Best Web. Published on Veterans Day 11/11/97. Last modified: 27-Mar-2021