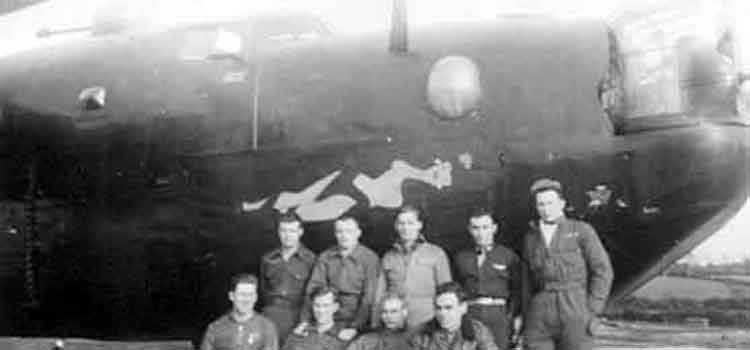 | | | | | | | | | | | | | | | | | |
| --- | --- | --- | --- | --- | --- | --- | --- | --- | --- | --- | --- | --- | --- | --- | --- | --- |
| NAME | TP | - | M# | SER | - | BLK | - | MF | SERIAL # | AF | BG | BS | SC | RCL/# | V#-P | PHOTO CREDITS |
| NITE AND DAY | B | - | 24 | H | - | 15 | - | FO | 42-94756 | 8 | ~ | 406 | J6 | C | 00-2 | WILLIAM C. "PAT" PATTILLO |
Before Name Was Applied - AKA "Midnite Mistress" - Renamed from PROBLEM CHILD
Contributor - William E. Pattillo
Although the art work was in place (and called "Midnite Mistress" by a previous crew), my Father William C. "Pat" Pattillo (Pilot) and crew named her NITE AND DAY in April of 1945. (He still has the stencil design!) They named the airplane in recognition of the fact that it had been on many day and night missions in it's career in the 406th Night Leaflet Squadron. The crew flew their first mission 18 Apr 45 and returned to the U.S. (with ten ground crew members) and parked NITE AND DAY at Bradley Field 11 Jul 45.
Standing (L-R)
Sgt Robert C "Bob" Link - Nose Gunner
2Lt John L. "Jack" Coyle, Jr. - Co-Pilot
Sgt Leo L. Cunningham - Engineer
F/O Hoyt J. "Jim" Harrell - Navigator
S/Sgt Donald J. "Don" Parr - Radio Operator
Kneeling (L-R)
2Lt Theodore J. "Ted" Harwood - Bombardier
Sgt Rudoph H. H. "Rudy" Rohlke - Tail Gunner
Sgt Robert B. "Bob" Brinkman - Ball Turret Gunner
2Lt William C. "Pat" Pattillo - Pilot


Info Contributor - Tom Brittan
Original aircraft in 487th BG / 839th BS (R5 N) named PROBLEM CHILD.
Send e-mail or pics to B-24 Best Web Master along with your questions or comments about this web site.
Copyright © 1997 B-24 Best Web. Published on Veterans Day 11/11/97. Last modified: 18-Jul-2021