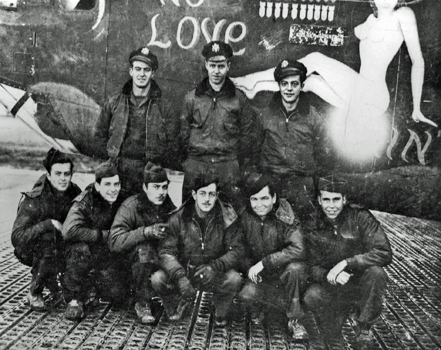 | | | | | | | | | | | | | | | | | |
| --- | --- | --- | --- | --- | --- | --- | --- | --- | --- | --- | --- | --- | --- | --- | --- | --- |
| NAME | TP | - | M# | SER | - | BLK | - | MF | SERIAL # | AF | BG | BS | SC | RCL/# | V#-P | PHOTO CREDITS |
| NO LOVE NO NOTHIN' | B | - | 24 | H | - | 15 | - | FO | 42-52533 | 15 | 465 | 782 | ~ | O | 00-6 | FREEMAN SMITH |
Transferred from 464th BS - Lost 2 Mar 45, AUT - MACR 12750 - Pilot Italo "Chick" M. Gemmato
Flight Jacket

Contributor - Brian Smith
Shown with my Father, Freeman Smith (Top Turret Gunner), kneeling 3rd from right. Crew was shot down over Yugoslavia, after bombing Linz, Austria. Everyone bailed out and was returned to Allied lines by Tito's Partisans.
Standing (L-R)
Larry Smith – Bombardier/Navigator
Norman R. Stickney – Co-Pilot
Italo "Chick" Gemmato – Pilot




Kneeling (L-R)
Bill Snow – Engineer
Ike Eisenbaum – Nose Gunner
Lenny Day – Armor/Gunner
Freeman Smith – Top Turret Gunner
John Martin – Ball Turret Gunner
Bob Linsley – Radio Operator/Gunner
Info Contributor - Norman R. Stickney (Co-Pilot)
I served with Lt. Italo "Chick" Gemmato's crew on both NO LOVE NO NOTHIN' & EASY MAID (44-49914).
Send e-mail or pics to B-24 Best Web Master along with your questions or comments about this web site.
Copyright © 1997 B-24 Best Web. Published on Veterans Day 11/11/97. Last modified: 27-Mar-2021