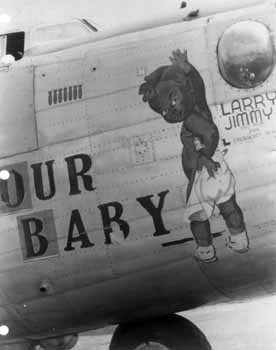 | | | | | | | | | | | | | | | | | |
| --- | --- | --- | --- | --- | --- | --- | --- | --- | --- | --- | --- | --- | --- | --- | --- | --- |
| NAME | TP | - | M# | SER | - | BLK | - | MF | SERIAL # | AF | BG | BS | SC | RCL/# | V#-P | PHOTO CREDITS |
| OUR BABY | B | - | 24 | J | - | 150 | - | CO | 44-40173 | 8 | 453 | 735 | H6 | K | 02-3 | DON G. HILL 3RD |
Renamed from ERNIE'S BEAVERS
Contributor - Don G. Hill 5th
My Grandfather, Don G. Hill 3rd, was the Radio Operator.
Info Contributor - Tom Brittan
Shown with early A-6B nose turret. Total Missions: 88 with none known with 466th BG
Assignments:
8/492/857 (9H -P) Original aircraft: 20 missions. Named ERNIE'S BEAVERS (The name T.S. has also been associated with it)
8/453/735 (H6 K) from 12 Aug 44 re-named OUR BABY.
63 missions (24 Aug 44 - 25 Mar 45) then 733 (RCL Unknown) from 1 Apr 45. 5 missions (5 - 10 Apr 45)
Waist windows with gun socket mounted and Fairchild compensating sight on both guns fitted Oct/Nov 44. Nose turret changed from Consolidated MPC A-6B to Emerson A-15 at same time or in Dec 44
8/466/786 (U8 W) RZI.
Send e-mail or pics to B-24 Best Web Master along with your questions or comments about this web site.
Copyright © 1997 B-24 Best Web. Published on Veterans Day 11/11/97. Last modified: 27-Mar-2021