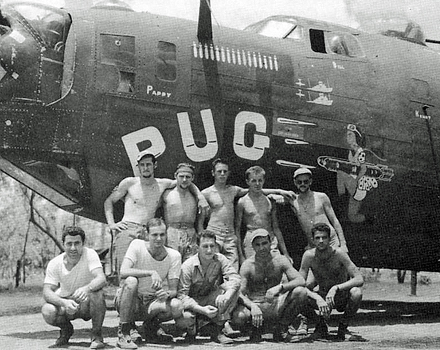 NAME
TP
-
M#
SER
-
BLK
-
MF

SERIAL #

AF

BG

BS

SC
RCL/#
V#-P

PHOTO CREDITS

PUG

B

-

24

D1

-

65

-

CO

42-40526

5

380

531

~

~

03-

4

N/A
Port (Left) Side - 1st Nose-Art - Renamed from PRINCE VALIANT
Info Contributor - Michael Thomas
Shown with my Father, Bill Thomas (Pilot, kneeling far right). He named the A/C after my mother.
Info Contributor - Theodore J. Williams
Flown overseas by the Bratton Crew of the 530th and was originally named PRINCE VALIANT. It was transferred to the 531st upon returning from New Guinea in early July '43 to make up for the heavy early losses that squadron had in the very early days. It was flown by them (mostly by Thomas and his crew) until mid December '43 when we sent all our original deployment aircraft to the Depot for salvage or retrofitting for a nose turret (the Depot's call) in exchange for newer aircraft . Only BEAUTIFUL BETSY remained with us as a "D" and was used as a "Fat Cat".
When we went to the Depot in February '44 for further new aircraft, we found that PRINCE VALIANT (now with a turret) was available so we took it again . It was assigned back to the 531st and to the Thomas Crew. They very soon renamed her PUG, after the aircraft they had lost much earlier (42-40518).
Send e-mail or pics to B-24 Best Web Master along with your questions or comments about this web site.
Copyright © 1997 B-24 Best Web. Published on Veterans Day 11/11/97. Last modified: 27-Mar-2021