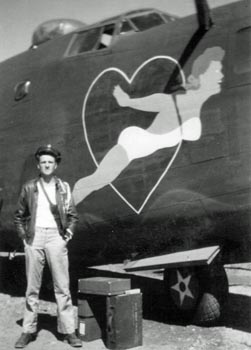 NAME
TP
-
M#
SER
-
BLK
-
MF

SERIAL #

AF

BG

BS

SC
RCL/#
V#-P

PHOTO CREDITS

QUEEN OF HEARTS

B

-

24

H

-

15

-

FO
42-52511

8

466
786
U8
E
05-

3

JAMES O. AUMAN
Contributor - Michael Parana
Shown with my Uncle, SSGT James O. Auman (R/Waist Gunner and also the Artist). He brushed the name "Snookie" (his future wife) under the waist window. He was 91 years old when he passed away 11 Nov 2011.
Jim said that he had brushes & art items with him at Marrakech, Africa in Feb 1944. Said it was easy to find red & white paint on hand. Did the image w/o permission!! Said some of the officers were at a place called "The Cave". He ate fresh oranges w/ "Pickles" Regard, a hometown buddy who flew there in a C-47. Note: back of the PIC says: "The day I painted the girl & heart on 511's nose, Feb 1944". In this view, he still had not done the black outline on the girl's body or yet, gave her brows & lashes on the eyes. You may also note Jim's A-2 is splashed w/white paint over the left arm. One of the crew snuck under the ship, and kicked those boxes he was using to stand on. Well,... paint went flying and Jim fell in a heap.
Send e-mail or pics to B-24 Best Web Master along with your questions or comments about this web site.
Copyright © 1997 B-24 Best Web. Published on Veterans Day 11/11/97. Last modified: 27-Mar-2021