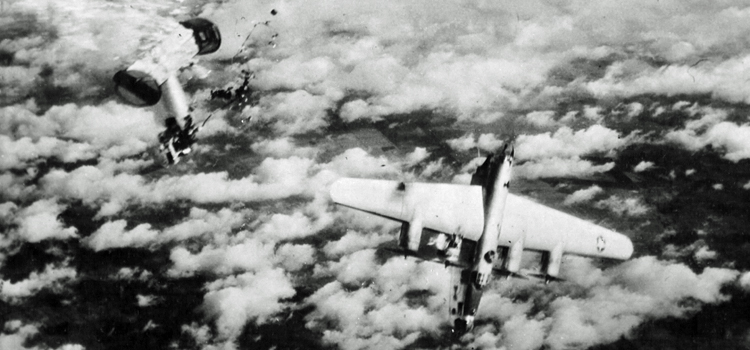 | | | | | | | | | | | | | | | | | |
| --- | --- | --- | --- | --- | --- | --- | --- | --- | --- | --- | --- | --- | --- | --- | --- | --- |
| NAME | TP | - | M# | SER | - | BLK | - | MF | SERIAL # | AF | BG | BS | SC | RCL/# | V#-P | PHOTO CREDITS |
| RED BOW | B | - | 24 | M | - | 10 | - | FO | 44-50838 | 8 | 448 | 714 | EI | B | 00-1 | NARA |
Photo Taken from FRISCO FRISKY (42-51246) - Lost 4 Apr 45, GER - MACR 13730 - Pilot Robert L. Mains
Also Featured on

Info Contributor - Tom Brittan
On the 4 Apr 45 mission to Parchim (Wesendorf, the secondary target was bombed) it was broken in half by cannon fire from Me 262 jet fighters just after the bomb bay doors had been opened. There was only one survivor (Charles E. Cupp, Jr. - Radio Operator) who bailed out and was taken prisoner.
Info Contributor - John E. La Riviere
My Father, John E. La Riviere, was the Co-Pilot.
Send e-mail or pics to B-24 Best Web Master along with your questions or comments about this web site.
Copyright © 1997 B-24 Best Web. Published on Veterans Day 11/11/97. Last modified: 27-Mar-2021